The 5th Forum on China's Industry Development Came to a Successful Conclusion 2022-12-17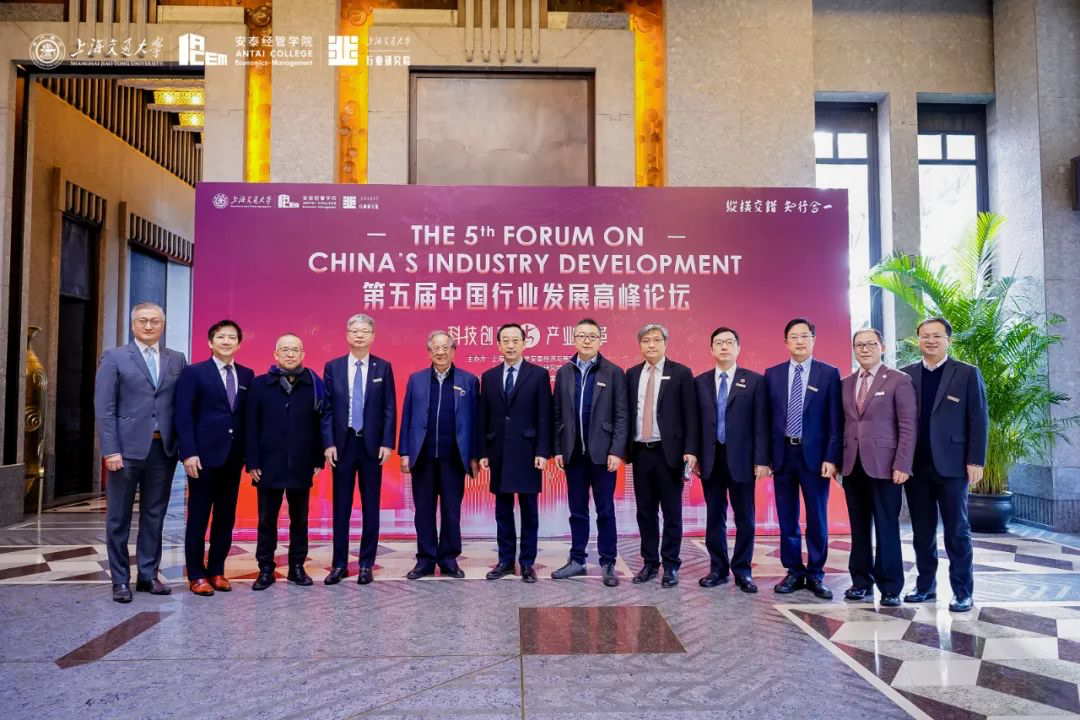 The 5th Forum on China's Industry Development themed "Technological Innovation and Industrial Transformation" was hosted and successfully held by Antai College of Economics and Management (ACEM), Shanghai Jiao Tong University on December 17, 2022.
This forum was moderated by Jiang Wenning. Secretary of the Party Committee of ACEM. Chen Fangruo, Dean of Antai College of Economics & Management, Institute of Industry Research, and Shenzhen Institute of Industry Research; Tian Xinmin, Associate Dean of ACEM, Associate Dean of Institute of Industry Research, Executive Dean of Shenzhen Institute of Industry Research; Chen Hongmin, Associate Dean of Institute of Industry Research; Luo Jun, Associate Dean of Institute of Industry Research; Jiang Wei, Assistant Dean and Chief Scientist of Shenzhen Institute of Industry Research, and other participants shared cutting-edge and representative cases of enterprise transformation. This forum attracted nearly 100 onsite participants, and was simultaneously broadcast live on multiple new media platforms.
During the forum, the three new Industry Community Classes (on big health, financial technology, digital economy) were officially launched. ACEM initiated the industry community class program in 2019, which provides a path for the in-depth evolution of the supply and demand model between the college and its alumni, promotes the virtuous circle of practice, theory and teaching, and builds a diversified new business ecosystem. To date, nine industry community classes focusing nine industries have been set up, which are highly recognized by alumni.
At the same time, ACEM and Institute of Industry Research officially released the Antai Industry Review, which is a professional academic journal focusing on industry research, positioned as a "new platform" for discussing academic industry research paradigm, a "new bridge" for connecting academia and industry, and a "new species" for business research. Dean Chen sent a warm invitation to the academia and the industry, hoping that experts from all walks of life would contribute industry wisdom and jointly create an industry research ecosystem.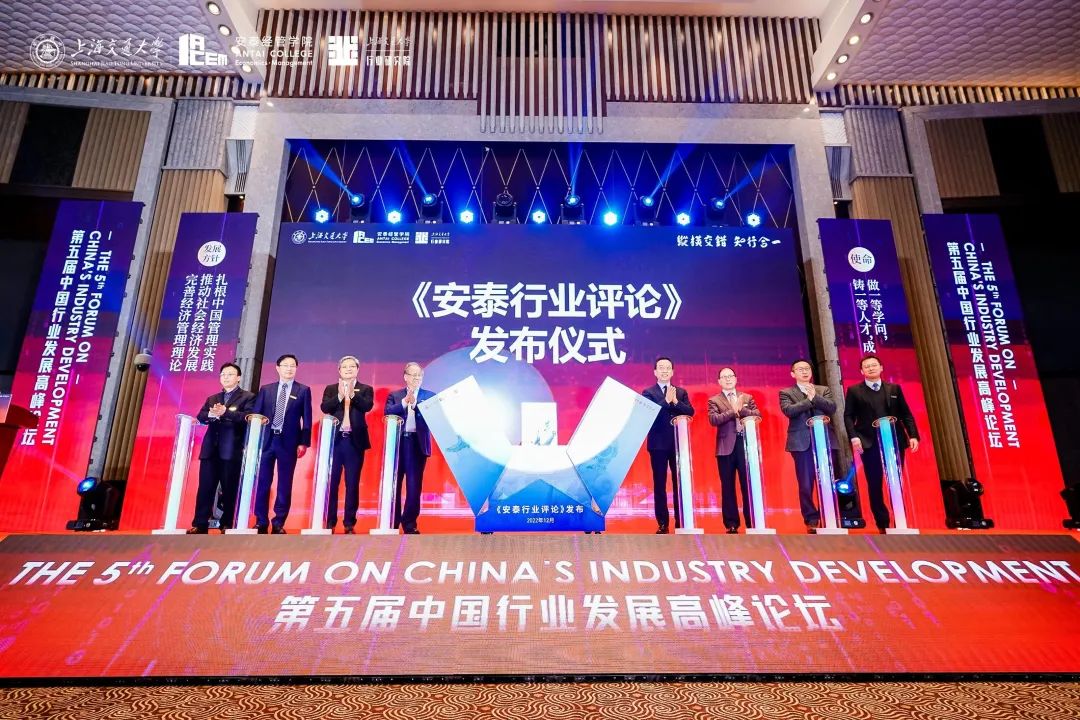 During the round-table discussion titled "Intelligent Manufacturing and Industrial Remodeling", Professor Jiang Wei, Liu Jiangxian, Hu Jinghai, Qiu Chuqun, Zhang Jun, Zhang Mingxing and Zhang Weiming shared their views on the technological upgrading, capacity optimization, industrial restructuring and other issues of intelligent manufacturing.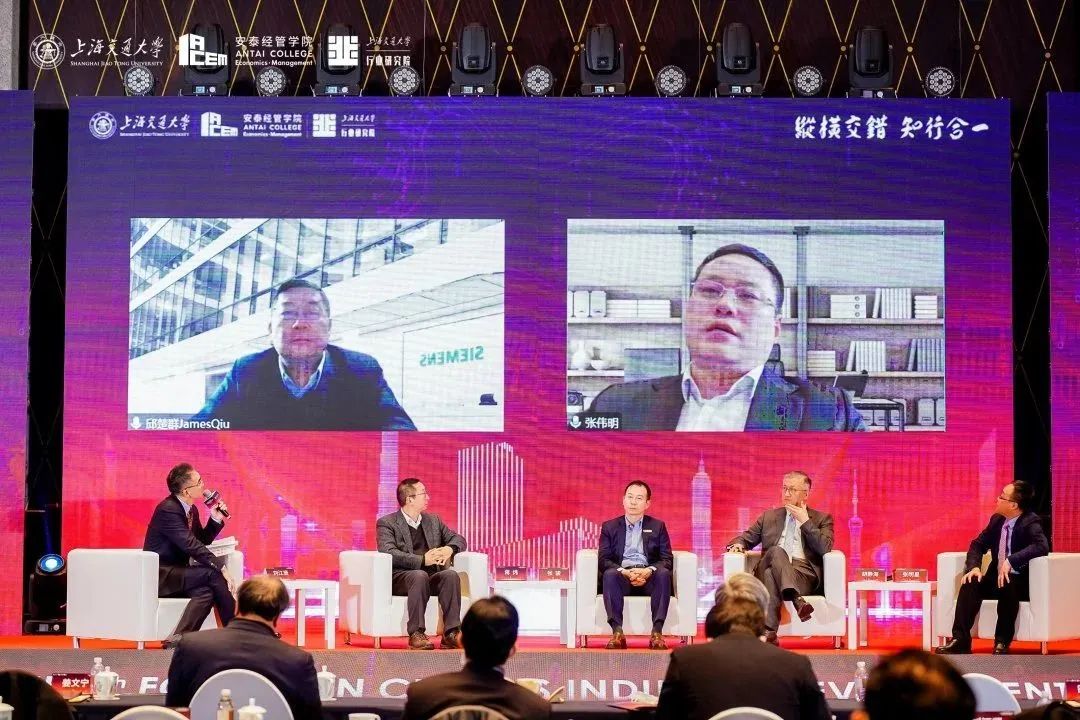 Achievements of Institute of Industry Research of SJTU in 2022
In 2022, facing various difficulties caused by the COVID-19, Institute of Industry Research of SJTU keeps forging ahead and never stops the pace of industry research. During this year, the fourth batch of 32 research teams have gone deep into the industries and entered the enterprises, conducted 180 enterprise surveys, and formed 52 industry research reports or survey reports. In terms of industry research serving the government, 9 national-level and 11 provincial- and ministerial-level adoptions or instructions have been received for the advices to government. The practical experience of Antai Faculty has supported the innovation of scientific research. To date, 30 projects have been approved, 72 academic papers have been published, 6 industry cases have been written, 5 industry research monographs or textbooks have been published, 48 forums and seminars have been held. The industry research of ACEM is forming research achievements in multiple aspects, types and dimensions, and gradually building a business ecosystem with industry-university-research collaborative development.