Prof. Yin Talks at Huawei's 2022 Sustainability Forum as Moderator 2022-11-25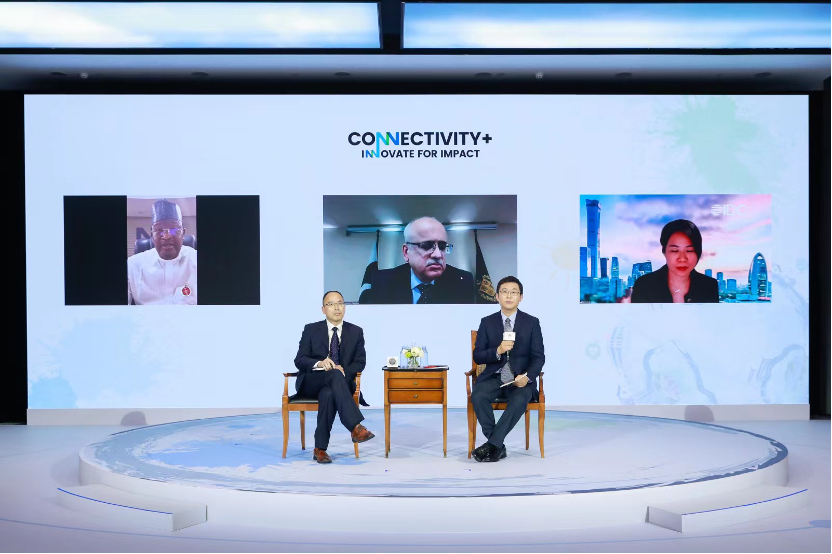 Antai Prof. Yin Haitao (right) talks with Huawei President of Wireless Solution Cao Ming (left) and
other speakers at Huawei's 2022 Sustainability Forum on November 23, 2022.
Antai Professor Yin Haitao attended Huawei's 2022 Sustainability Forum Connectivity+: Innovate for Impact on Wednesday afternoon in Shenzhen and discussed at the event as moderator with speakers including senior leaders from International Telecommunication Union (ITU) and United Nations, telecom ministers and regulators in Cambodia, Nigeria, Bangladesh, and Pakistan, and business leaders, experts from China, South Africa, Belgium, and Germany.
The forum explored how ICT innovation could unleash the business and social value of connectivity and drive sustainability in the digital economy era, touched on topics including Huawei's global commitment to join the International Telecommunication Union's Partner2Connect digital alliance, as well as improved digital cooperation needed in the dynamic world to capitalize on the transformational potential of technology.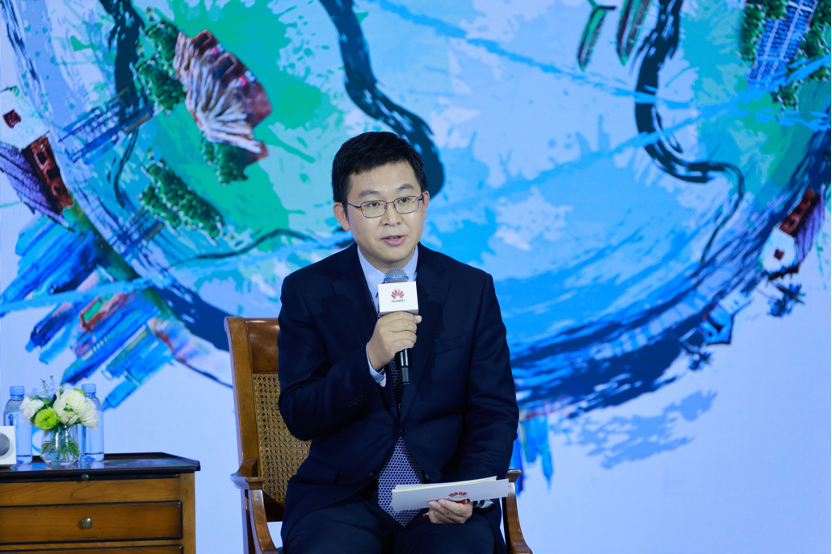 Prof. Yin speaks at the Connectors in Action-Connect the Unconnected discussion.
During the discussion themed Connectors in Action-Connect the Unconnected, Professor Yin shared his views on Huawei's RuralStar solutions, which have provided connections for more than 60 million people in remote areas in more than 70 countries. "RuralStar series solutions are really a classic example on how business world can utilize their power to advance our sustainability goal. In the RuralStar cases, we have not only solved a social issue-connectivity, but also have made business sense. We now use solar energy to realize environment protection, and further achieve social equity, as well as economic development." Said Yin.
"We must remind ourselves that full connectivity is not our goal, our goal is getting everybody involved in our digital society, havening people in remote rural area, sharing our prosperity from digital economy. We sincerely hope that our digital economy and digital technology can have real social impact." Yin stressed during the Connectors in Action-From Connect to Impact discussion.
RELATED CONTENT
Huawei's Pledge to ITU's Partner2Connect
Huawei is committed to bridging the digital divide in remote communities. By the end of 2025, Huawei's ICT solutions (including RuralStar) will bring connectivity to about 120 million people in remote areas across more than 80 countries.

In Cambodia, the ITU's first P2C Partner Country, Huawei will work with government departments through the Ministry of Posts and Telecommunications and universities to provide 10,000 training opportunities for ICT professionals over the next five years (2022–2027).
Yin Haitao's Team Studied how Huawei Created a New Type of Cell Site Tower Optimized for Rural Stars. (https://www.acem.sjtu.edu.cn/acem2021/en/faculty/insight/72013.html)