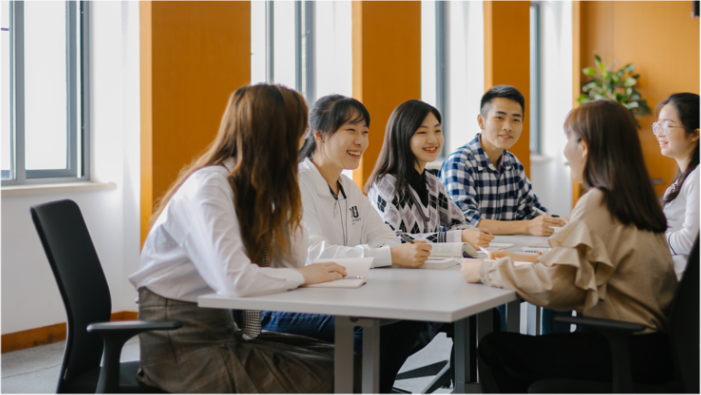 Department of Economics
The economics education of Shanghai Jiao Tong University has a history of over 100 years, it stood out from the very start. As early as 1902, Adam Smith's The Wealth of Nations translated by Mr. Yan Fu was published by the Translation College of Nan Yang Public School (the predecessor of Shanghai Jiao Tong University) and served as a must-read textbook for students of this institution. The translation of this book is recognized by academics as a landmark that Chinese peo
The department offers systematic and cutting-edge courses for undergraduates, postgraduates and doctoral candidates. Undergraduate courses include Principles of Economics, Intermediate Microeconomics, Intermediate Macroeconomics, Econometrics, Game Theory, Applied Econometrics, Labor Economics, Public Economics, Experimental Economics, Development Economics, International Economic Law, History of Economic Thoughts, International Investment Studies, International Trade Theory & Policy, etc. Postgraduate courses include Advanced Microeconomics, Advanced Macroeconomics, Advanced Econometrics, Industrial Organization Theory, Regional Economics, Research on China's Economic Issues, etc. The department has excellent teaching quality and won 1 first prize and 1 second prize of national teaching achievements.
Scientific research of the department is solid. Academic research is aimed at international
academic frontiers. Practical research serves the significant development strategies of the national and local economies. In the past five years, our teachers have undertaken 3 major projects of the National Social Science Fund of China (SSFC), 1 key project of SSFC, dozens of general projects, youth projects and international cooperation projects of the National Natural Science Foundation of China (NSFC). We have published 487 academic papers in domestic and foreign journals and international conferences, compiled over 60 textbooks and works, and won over 40 scientific research achievement awards at the provincial and ministerial level.
The main journals where papers are published include Economic Research Journal, Management
World, Social Sciences in China, Econometrica, American Economic Journal, Journal of Economic Theory, Journal of Economics, Journal of Industrial Economics, World Development, Econometric Theory, Journal of Business & Economic Statistics, Games and Economic Behavior, Economic Journal, Journal of the American Statistical Association, etc.
Some of the awards we have won include 1 first prize, 6 second prizes, 3 third prizes and 1 Youth
Achievement Award of the Outstanding Scientific Research Achievement Award of Higher Education Institutions of the Ministry of Education (Humanities and Social Sciences); 3 first prizes and 5 second prizes in Shanghai Outstanding Achievement Award in Decision-making Consulting Research; 5 first prizes, 6 second prizes and 2 third prizes for Outstanding Scientific Achievements Award in Philosophy & Social Sciences at the provincial and ministerial level; 1 Zhang Peigang Development Economics Award; 1 Pushan World Economics Excellent Thesis Award (Youth Thesis Award). The department enjoys a good academic reputation and extensive social influence at home and abroad.
Students who are trained with strict academic standards and professional economics knowledge
are highly competitive in their further study or employment. In recent years, many undergraduates
have gone to top universities in the world to pursue their master's or doctoral degrees, such as
Massachusetts Institute of Technology, Columbia University, University of California, Berkeley,
Cornell University, Carnegie Mellon University, University of Southern California, University of
Rochester, New York University, Boston University, London School of Economics and Political
Science, HEC Paris, University of Technology Sydney, Nanyang Technological University and
many top universities in China.
Graduates have good employment prospects, and most of them work in key industries or
departments of the national economy. Some employment destinations for graduates in recent
years include China Financial Futures Exchange, China International Capital Corporation, China
Banking and Insurance Regulatory Commission, Bank of Communications (Headquarters),
Shanghai Stock Exchange, Shanghai International Group, ExxonMobil (China) Investment Co.,
Ltd., McKinsey & Company (Shanghai), Morgan Stanley (Shanghai) Co., Ltd., Bosera Asset
Management Co., Ltd., Shenyin & Wanguo Securities Co., Ltd., Guotai Junan Securities Co., Ltd.,
Haitong Securities Co., Ltd., China Pacific Insurance (Group) Co., Ltd, PricewaterhouseCoopers,
Deloitte, KPMG, Ernst & Young and other famous enterprises, as well as universities, research
institutions and government agencies such as Tongji University, East China Normal University,
Shandong University, Chinese Academy of Social Sciences, Shanghai Academy of Development
and Reform, National Development and Reform Commission, Research Office of Beijing
Municipal Committee of CPC, Shanghai Science and Technology Committee, Shanghai
Agriculture Committee, and Organization Department of Shaanxi Provincial Committee of CPC.
Contact us
Land address

Department of Economics, Antai College of Economics and Management, No.1954 Huashan Road, Shanghai

Post compilation

200030

Telephony

86-21-52302962

e-mail

economics@acem.sjtu.edu.cn