On September 13th 2021, Financial Times (FT) published its global top 100 ranking of Master in Management programs, in which Antai College of Economics and Management (ACEM) of Shanghai Jiao Tong University (STJU) ranks 36th in the world, and becomes the only Master in Management program among Chinese business schools to rank one of the world's top 50 for 13 consecutive years. Its program satisfaction ranks the second in the world, along with the salary increase of its graduates ranking No.5 across the globe.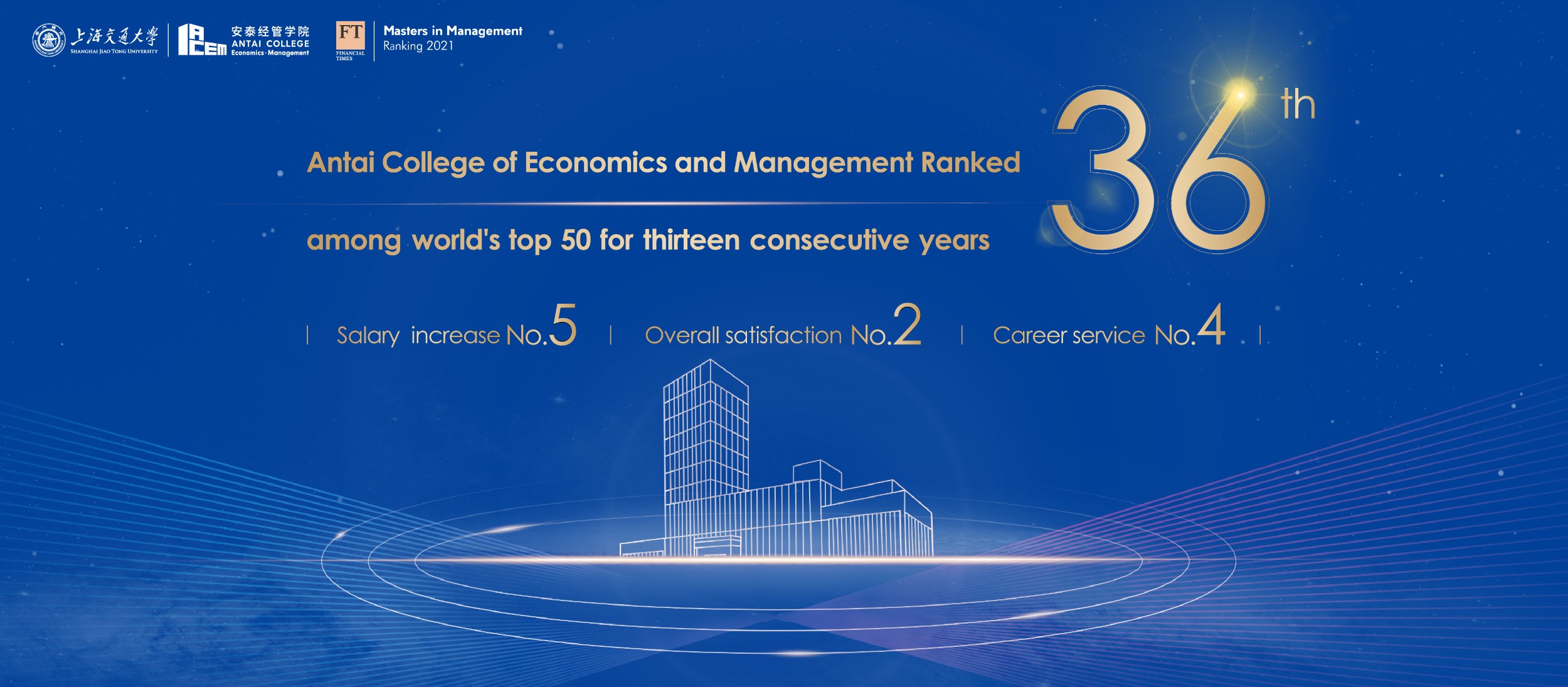 FT ranking of Master in Management programs is characterized by strict evaluation standards, independent and objective data survey as well as comprehensive and in-depth evaluation index system, which is one of the important rankings for FT to evaluate the fundamental discipline programs of business schools. On the one hand, it measures the performance of graduates' salary, career development, aims achievement and entrepreneurship, and on the other hand, it considers the overall strength of business schools with indicators.
In the latest ranking, ACEM's Master in Management program scores 9.75 in overall satisfaction, ranking the second in the world. The overall satisfaction indicator is a 10-point system, which is comprehensively evaluated by graduates according to the program curriculum, program experience and careers service quality, etc. This indicator reflects high recognition by graduates in terms of the quality of the course and the return on career development of the Master in Management program.
Thanks to its excellent faculty resources and broad partnership with schools across the world to ensure high-level education, teaching and curriculum quality, ACEM is committed to providing intellectual support for corporate partners and nurturing future management talents. 95% of ACEM's teachers have doctoral degrees and 41% have overseas doctoral degrees. The Master in Management program takes root in the local context with international vision. The curriculum system of the program is fully aligned with international first-class colleges and universities, realizing the comprehensive integration of master's and doctoral courses. Based on the basic courses of disciplines, research tools and theoretical courses, world's top-tier teachers of management are invited to teach students, and first-class special research courses are created. In addition, international and domestic forums have been introduced to organize summer schools to build learning and communication platforms.
In this ranking, careers service rank continues to improve, ranking No.4 in the world. Guided by the concept of "two types of scholarship, horizontal (academic) and vertical (industry) reinforcing each other and connecting theory with practice", ACEM has achieved good interaction between academic theory and industrial practice, and established close cooperation and connection between academic and industrial communities. At the same time, with the support of professional, full-scale and diversified career development services, students can understand the frontline of the industry from various industry forums, corporate visits, career navigation and other programs, and apply what they have learned to practice. As a result, the employment shows a trend of higher quality and more full employment ratio. The graduates mainly work in well-known enterprises at home and abroad, such as Shenzhen Stock Exchange, China Development Bank, Shanghai Electric Group, Tencent Technology Co., Ltd., China International Finance Co., Ltd., Guotai Junan Securities, CITIC Securities, Boston Consulting Group, etc., while others choose to continue their studies.
ACEM graduates have been well acknowledged by employers with their solid and professional basis, pragmatism and willingness to work hard. With the help of the country's latest opening policy: international students with master's degree or above can find internship and jobs at Shanghai Free Trade Zone and other regions. More and more international students from ACEM stay in Shanghai to engage in international trade and other industries, becoming a bridge between their motherland and China. ACEM graduates' salary and salary percentage increase indicators rank the first among Chinese business schools, and the salary percentage increase ranks among the world's top 5 for many consecutive years. The outstanding strengths of these two most popular ranking indicators fully demonstrate the professional competitiveness of ACEM graduates from Master in Management programs.
ACEM has made strenuous efforts for excellence. In the QS Master in Management 2022 ranking recently released, ACEM Master in Management program ranks 44th in the world and 3rd in Asia among 159 participating programs in 33 countries and regions in the world, once again proving its profound international reputation.