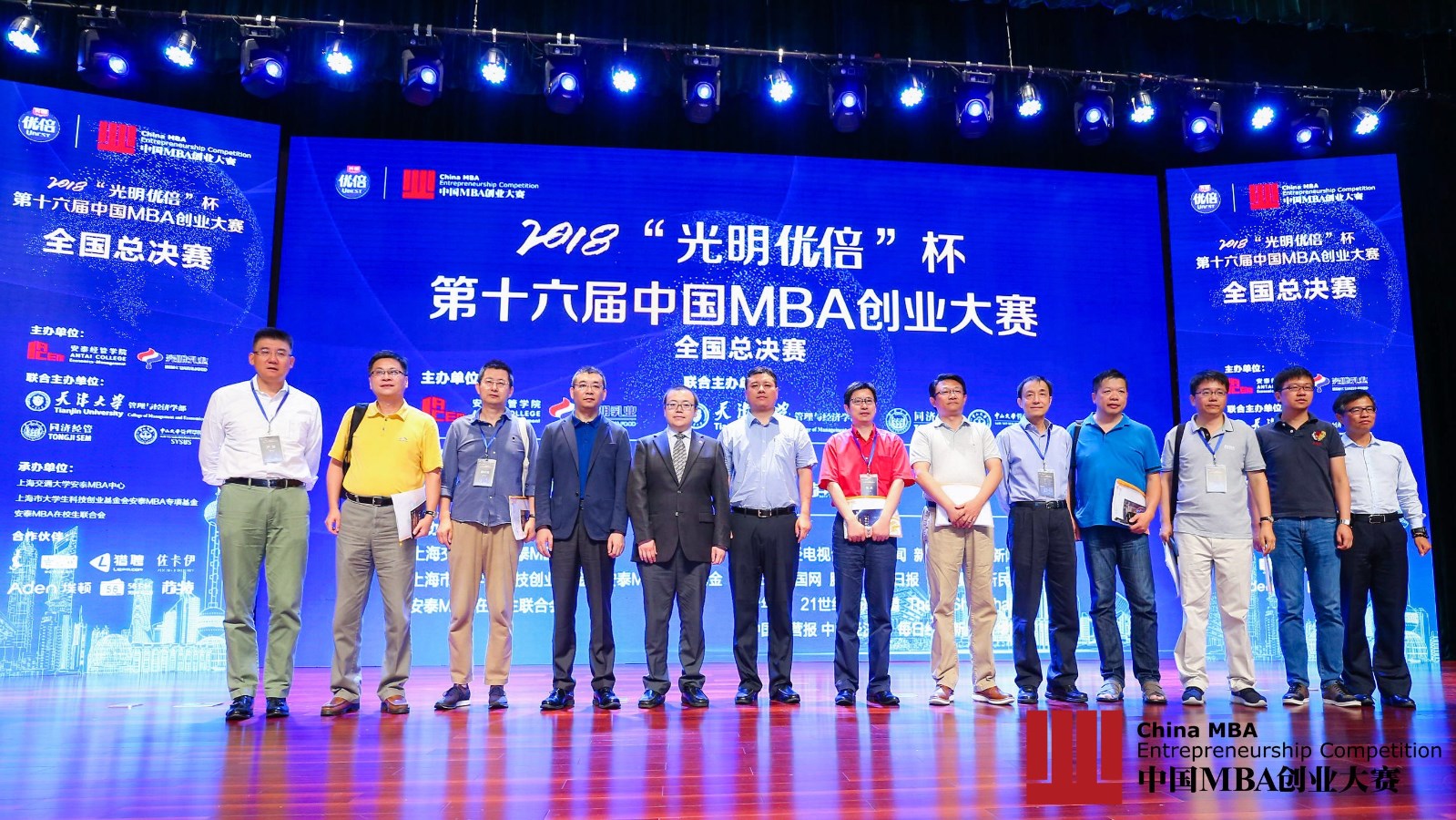 On July 25, 12 finalist teams pitched their business ideas at the finale of the 16th China MBA Entrepreneurship Competition. The event was held at Shanghai Jiao Tong University's Xuhui Campus.
The grand prize winner at this year's competition was Shanghai Jiao Tong University with their Glass Ceramics Mobile Phone Rear Cover Baseplate, which won a RMB100,000 prize to further development and promotion. The runner-up was Ai Tour Guide of Tsinghua University. In third place was Genetic Diagnosis of Cardiovascular Disease of Renmin University of China.
The projects of Dalian University of Technology, Tongji University and Xiamen University were granted the Excellence Award.
Hosted each year by Antai College of Economy and Management, Shanghai Jiao Tong University, the China MBA Entrepreneurship Competition is open to all MBA students and alumni interested in launching new business and social impact ventures. This year, 241 teams from 76 business schools entered the competition.
Well-known investors such as SB China Capital, Eurazeo, Shanghai Guohe Capital, Volcanics Venture, New Access Capital, Donlin Capital and famous groups' leaders attended the contest, getting in touch with aspiring entrepreneurs and exploring possible investing opportunities.
These 18 projects revolve around artificial intelligence, big data, high-end manufacturing, new materials, new energy, smart medicine and other cutting-edge technologies.
This year, 12 projects have launched in the real economy with two of these projects gaining over RMB10 million in annual sales. In addition, 12 projects now have their own patents, some of which are at the industry's leading level. Two projects received RMB10 million of venture capital funding.
The Glass Ceramics Mobile Phone Rear Cover Baseplate of Shanghai Jiao Tong University will be a new material choice for mobile phone manufactures, which overcomes common disadvantages such as background signal interference, scratched rear covers, high cost of ceramic rear covers and easy breakage of glass rear covers.
Based on the scenic spot introduction of LBS and the interactive dialogue of NLP, the AI Guide of Tsinghua University has developed the world's first artificial intelligence guide.
Five projects are involved in the smart medical field. The Nuohexinkang project of Renmin University of China focuses on the genetic diagnosis of cardiovascular and other chronic diseases. The CCTA Spinal Health New Model of Tongji University integrates American chiropractic and Chinese massage therapy. The Biological 3D Printing of Hip Joint of Jiangnan University has good biocompatibility. The SmartSanté Mobile Precision Medical Testing Platform of Cambridge University provides patients with online medical testing services, thereby reducing the waiting time of patients for a large number of tests.
Focusing on traditional industries, the project of Xi'an Jiao Tong University adopts the unique spraying gas extraction sealing drill and hole sealing technology, which effectively solves the risk of coalmine gas explosions. Metallic Tailings Integrated Solution Service Provider of Xiamen University develops a path for comprehensive utilization of tailings resources as well as an organic link of concrete.
The nine-member jury was pleased with this year's projects, praising their quality and maturity, with several already reaching the Pre-A or A-round funding phase.
Since its launch in 2002, the annual China MBA Entrepreneurship Competition has grown in scale and influence, and has developed into an important platform for MBA exchanges and cooperation. It has produced a host of successful start-ups and trained a group of young entrepreneurs.
A revisit of former competitors and their companies in the past six years reveals that one-third projects got an average RMB12.5 million in venture capital funding. Seventy percent of projects have managed to turn a profit, with an annual sales growth rate of nearly 40 percent.
This year, the committee launched the 'Xiongying Award' for good development projects in 2012-2018. Evaluated by operational status, financing situation and technological achievements, eight enterprises were granted the award, including Beijing SOD Technology, Beijing Avori Technology (Avori Intelligent Toothbrush), Jiangsu Dolphin Network (neets), Environmental Protection Technology (Yitu), Cheyitao Network Information Technology (Che 300), Kajia E-commerce (Unibrown), Shuimupinge Technology (Nuanxin Health), Yunnan Liangdao Agricultural Technology (Liangdao).
These eight enterprises have made remarkable achievements. In 2017, the average annual sales revenue was RMB11.68 million and the total financing amount was nearly RMB300 million. They have more than 100 patents in total, including more than 10 invention patents.
Winners
Ranking

University

Project

Shanghai Jiao Tong University

Glass Ceramics Mobile Phone Rear Cover Baseplate

Second Runner-up

Tsinghua University

AI Tour Guide

Third Runner-up

Renmin University of China

Genetic Diagnosis of Cardiovascular Disease

Excellence Award

Dalian University of Technology

Fuel Cell Sealing System for Hydrogen Energy Electric Vehicle

Tongji University

CCTA Spinal Health New Model

Xiamen University

Metallic Tailings Integrated Solution Service Provider

Winning Prize

Sun Yat-sen University

Egg Yolk Antibody Industrialization

Cambridge University

Jiangnan University

Biological 3D Printing of Hip Joint

East China University of Technology

Intelligent Factory Reconstruction Based on Cyber Machine System
Tags:business school Shanghai,mba programs in China