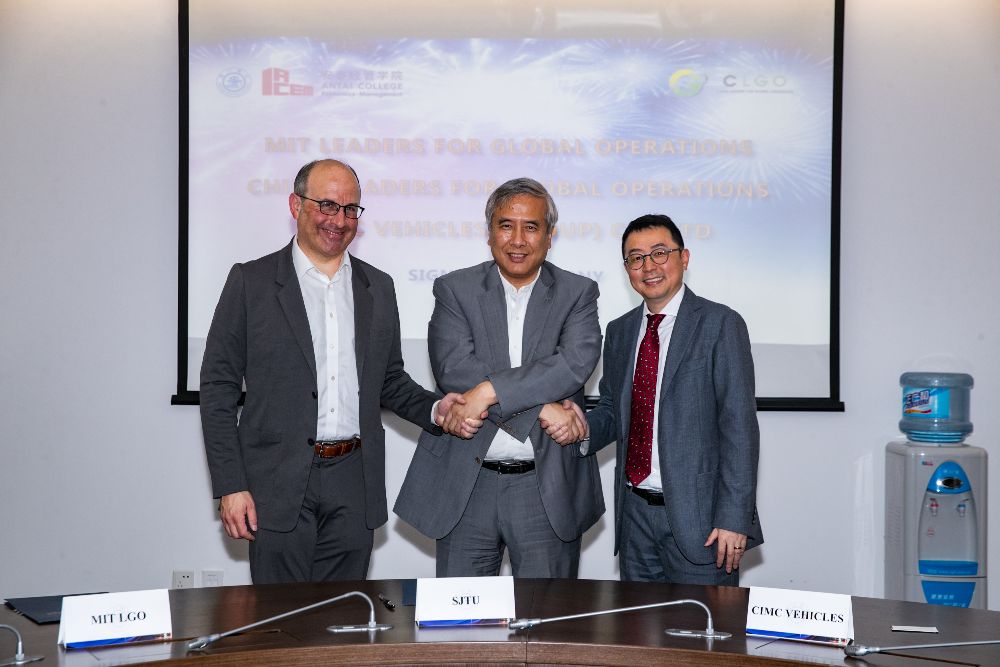 On the afternoon of May 28, 2018, a university-enterprise cooperation signing ceremony for the CLGO program was jointly held by Antai College of Economics and Management (ACEM) of Shanghai Jiao Tong University (SJTU), MIT LGO program, and CIMC Vehicles (Group) Co., Ltd. (CIMC Vehicles), and attended by representatives from each party. CIMC Vehicles has therefore become an official corporate partner of the SJTU-MIT CLGO program.
The signing ceremony was hosted by Dr. Chen Xiaorong, director of the CLGO program. In his speech at the ceremony, Prof. Dong Ming, associate dean of ACEM, warmly welcomed CIMC Vehicles, a pioneering Chinese manufacturer going global, to be part of the CLGO program as an official corporate partner who will be fully involved in candidate interview, teaching, internship and employment. Afterwards, Prof. Zhou Lin, dean of ACEM, Mr. Li Guiping, vice president of CIMC and managing director of CIMC Vehicles, and Prof. Thomas Roemer, director of MIT LGO program, signed the Memorandum of Understanding together.
After the signing, dean Zhou Lin said he was excited to see that the CLGO program is greatly supported by the top management of CIMC Vehicles. Mr. Li Guiping is both a successful executive who has led CIMC to operate globally and an old friend of the college. It is believed that the partnership will bring students more opportunities for internship and study at the enterprise, and also provide CIMC Vehicles with more operation talents with local expertise and global vision.
MIT LGO director Thomas Roemer said that with the rising position of Chinese manufacturing in the world, the CLGO program seeks to train operation elites who can help Chinese enterprises further go global, a shift from its original objective of merely training operation talents to meet the demand of multinationals in China. As more and more cases about the business model of Chinese enterprises are receiving global attention, Roemer hopes that there will be opportunities in the near future for him to visit CIMC headquarter in Shenzhen and its factory in the USA with students.
As an alumnus of ACEM, Mr. Li Guiping said that it was a great honor for him to facilitate this partnership at a time when the college is ready to celebrate its 100th anniversary. He introduced that CIMC was founded by Mr. Yuan Geng in 1980. Now it has developed into the world's largest container manufacturing group, with its business also covering vehicles, energy, chemical and food equipment, offshore engineering, logistics services, airport facilities, finance, industrial and urban development, united trucks, modular building, firefighting and rescue equipment, etc. in 23 countries and regions around the world. CIMC Vehicles focuses on the globalization strategy, and advocates the business philosophy of "global operations, local intelligence". By capitalizing on its advantages in management, technology, brand and supply chain, it has integrated global resources and achieved large-scale expansion, in an effort to create a global business operation system that covers developed countries, emerging countries and regional markets including mainland China. It is convinced that the partnership with SJTU-MIT CLGO program will not only upgrade the management and talent base of CIMC Vehicles, but also help the CLGO student improve their international leadership and ability of theory application, and thus prepare them for a more promising career.
Modeled after the highly successful "Leaders for Global Operations" (LGO) program by Massachusetts Institute of Technology (MIT), China Leaders for Global Operations (CLGO) is a full-time interdisciplinary program authorized by MIT, and jointly launched by Antai College of Economics and Management, School of Mechanical Engineering and School of Electronic Information and Electrical Engineering of SJTU. The CLGO program works with established global and local companies including Apple, Esquel, Dell, Honeywell, Cisco, COMAC, Huawei and Cainiao to build a pipeline of leaders for China – those who can apply both managerial and engineering expertise to global manufacturing and operations for sustained profitability and success – by bringing together the rigor and technical expertise of SJTU's two engineering schools and the cutting-edge theory of the SJTU ACEM. The CLGO program has provided numerous elites for the manufacturing and service operation sectors, making it a benchmark for joint training of top talents between industry and university.
Tags:business school Shanghai,mba programs in China