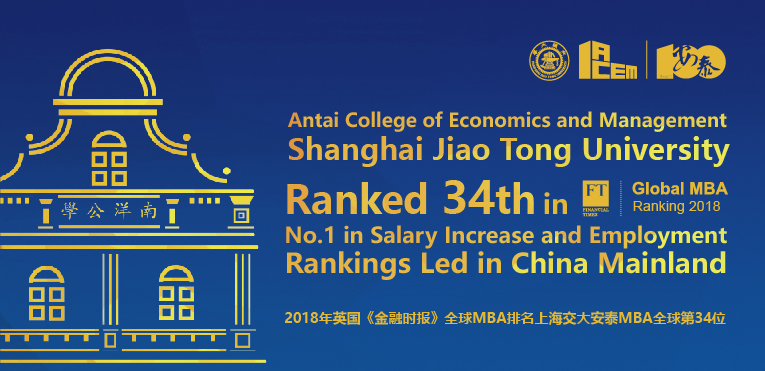 For the fifth consecutive year, the MBA courses offered by the Antai College of Economics and Management at Shanghai Jiao Tong University have garnered improved international recognition.
As a result, ACEM has maintained its ranking at No 34 in the Financial Times Global MBA Ranking 2018, whose results has been released on Jan 29.
For Antai's academic offerings to be lauded so prominently among the world's top MBA courses is a strong indicator of the school's rising international influence and reputation.
The annual global MBA ranking, launched by the Financial Times in 1999, has become renowned for its strict evaluation standards, independence and objectivity. Many students check the list before applying for admission to a business school.
World famous businesses schools such as Harvard Business School, London Business School and Yale School of Management are also evaluated in the list. Stanford Graduate School of Business topped the list in 2018.
In the latest ranking, ACEM came top for the fifth consecutive year in terms of the employment rate of its graduates. Salary increases of ACEM graduates also ranked first at 182 percentage points. The FT's 2018 figures show that the average annual salary for alumni three years after graduation is $121,635.
This year, Antai is ranked No 24 for value for money.The total tuition fee for its fulltime two-year MBA courses is 268,000 yuan ($42,076)."The rising global ranking of ACEM's MBA course reflects our strong comprehensive strength in training high-caliber people," said Zhou Lin, dean of ACEM."We are proud of our achievements," he added."China's rapid developing economy, efforts made by all students and professors in our faculty and support from the partners from both home and abroad are key factors that support our development."
Top academic recognition
A list released by the Ministry of Education of China in September gave further recognition to the school. The ministry announced "double first-class" institutions of higher learning, and Shanghai Jiao Tong University became the only university in Shanghai whose business administration
course entered the list of government-supported courses.
China's "double first-class"rating refers to world top-class universities and world top-class courses. It is a recognition system set up by the Chinese government and the Ministry of Education to recognize and support leading Chinese universities.
According to Zhou, the criteria measuring the quality of ACEM's faculty and scientific research quality have been improving steadily.
An internationalized teaching style and high-quality team has been able to support ACEM in offering courses with both global and local perspectives.
Internationalization
In recent years Antai's MBA team has been committed to promoting its internationalization.
In 2018, ACEM ranked No49 in terms of international course experience. ACEM has established an effective and unique mechanism to increase international exposure for its students.
The school has launched three types of overseas programs— dual-degree programs, overseas study tours and foreign exchanges, to offer students international opportunities. Figures from the school show that nearly 80 percent of ACEM's students will take part in overseas studies during an MBA course.
ACEM organizes study tours to countries such as the US, UK, Germany, Israel and Scandinavian countries every year to expand the global horizons of its students. Leading international business schools such as the University of Cambridge, Yale University and London Business School have partnered with ACEM to provide quality study tours for students.
The business school has forged partnerships with other leading business schools, including the Massachusetts Institute of Technology, Nanyang Technological University and the University of Washington, to offer students quality exchange experiences.
Meanwhile, Antai's MBA courses are attracting an increasing number of foreign students. Figures provided by ACEM show that 43 students from countries such as Canada, the US and Japan, enrolled in its MBA courses in 2018.
MBA course students in ACEM are actively encouraged to take innovation and business startup programs.The school has launched a nonprofit startup fund with a total capital of 20 million yuan. The fund has supported 61 projects, of which 90 percent are developing well and to date one-third have obtained angel investment or A-round investment funding.
History of a top business school
ACEM is one of the first business schools in China that is triple accredited by AACSB, EQUIS and the Association of MBAs.
In the last few years, the school has regularly been rated one of China's leading business schools by major ranking publications. ACEM's business administration course has been ranked among the top 50 for two consecutive years in the QS World University Rankings by Subject. It has also become the only Chinese business school to enter the top 100 list in the QS University Rankings: Global MBA Rankings 2018.
The school has long been committed to enhancing its academic performance and the qualifications of its faculty members. The effective MBA team and advanced course design ensure ACEM's MBA course can expand students' horizons.
ACEM's MBA course started in 1994. Its China Leader for Global Operation program, an MBA course launched together with the Massachusetts Institute of Technology, celebrated its 10th anniversary last year.The history of ACEM's MBA course goes back to 1918, when Shanghai Jiao Tong University started its first management program.
Looking ahead, the school will continue to strengthen its footprint and maintain a tradition of development, to continue its rich long-term evolution.
Tags:business school Shanghai,mba programs in China