In recent years, many different students from many different countries have come to Antai College with their different dreams.
New life, new stories and new friendship all started the moment they entered campus.
As time goes by, some have gone one step further towards their dreams, some have found new directions, and some have formed lifelong bonds.
What's it like to do a Master of International Business (MIB) as an overseas student in Shanghai? Let's hear it from them——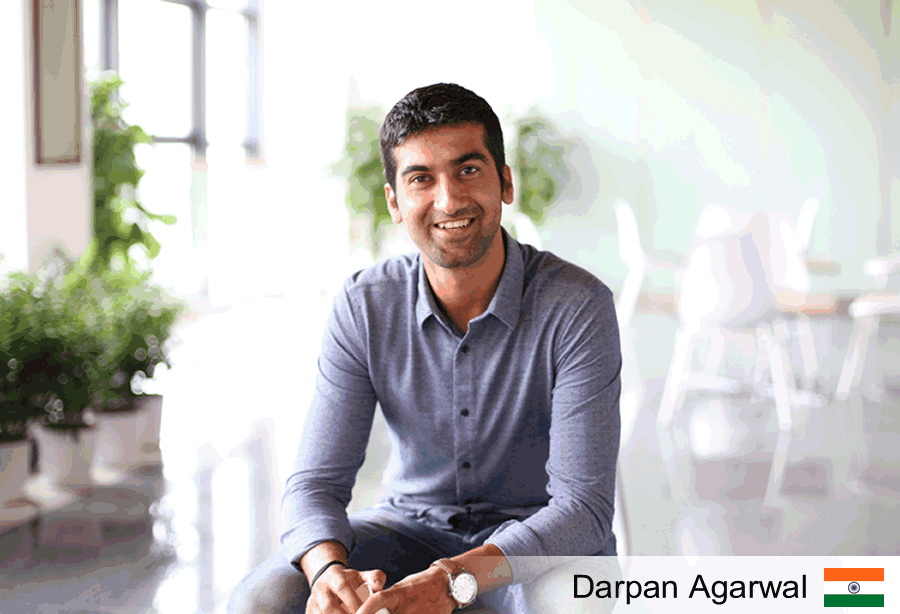 Darpan
'15, India
Keywords: Network, Business Savvy
My father has business in India importing Chinese products and comes to China frequently. I also came with him a few times. He and I both believe that China and India are the future. So MIB for me is more than studying, it's also about knowing the country and finding opportunities.
I had my own business card printed and started networking almost as soon as arriving here. My classmates came from 35 countries and after two years in Shanghai we have become a big family. Now if I were to travel to Europe, I would know people from nearly every country, which wouldn't have happened without the programme.
It's the same in terms of career. Building connections are much more effective than simply sending CVs over and it's also thanks to extensive networking that I got my offers.
My plan is to work in Shanghai for several years before eventually setting up a business linking India and China, or maybe just establish a start-up here.
In Shanghai, there are so many events, so many networking opportunities, and so many things happening every single day. This city has a great deal to offer, you just need to really dive in and accept it with open hands.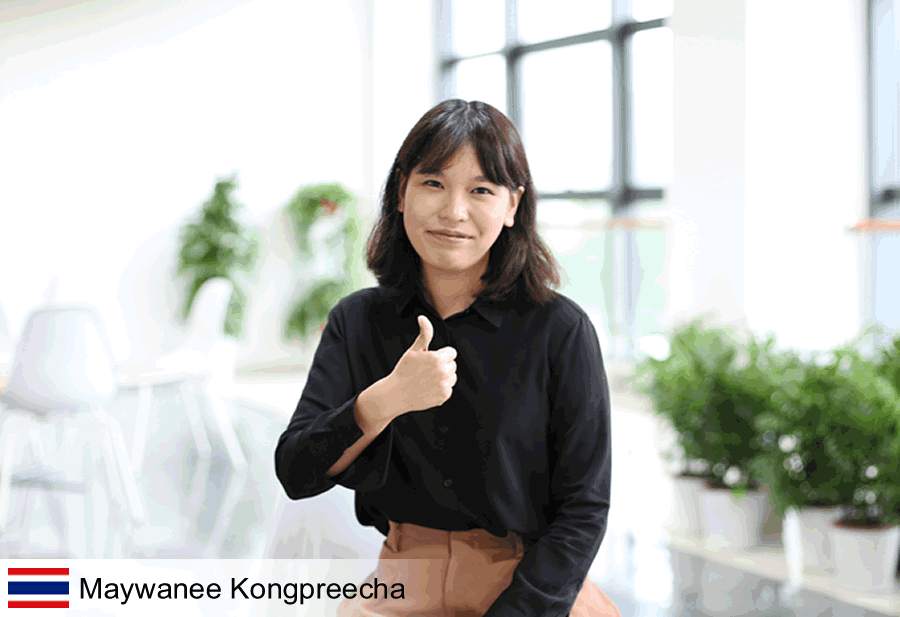 May
'15, Thailand
Keywords: Straight A student, Speak Chinese like a native
After two years of studying in MIB, I got an offer from Ctrip, a large travel service provider in China, which, in my opinion, brings me one step closer to my dream.
A few years ago, it was hard to find Chinese companies in Thailand. These days however, Xiaomi, Huawei, Ctrip and Baidu are all setting up local branches. I heard that next month JD.com is also planning to open there.
I realised that China was developing very fast and would be offering many opportunities a few years ago and opted to study Chinese in college. Lately I went back to visit my Chinese teacher and was told that right now there are so many students learning Chinese that the class size has doubled!
Contrary to what my friends said, going around in Shanghai is very convenient and you can use the bike sharing service almost everywhere. I only wish that the rent could be lower – 4,000 yuan can only rent you a small room in downtown Shanghai but a nice villa in Bangkok LOL.
At the beginning of the programme, I was worried that I might not be able to keep up since I did not study business as an undergraduate, and worked extra hard in preparing and reviewing every lesson. To my surprise, I ended up with one of the best GPAs in my class!
Soon I will start working in Ctrip and try to learn more about e-commerce and business operation. Hopefully I could lead a team in Ctrip Thailand in the future, exploring the market and finding promising opportunities, or even setting up my own business.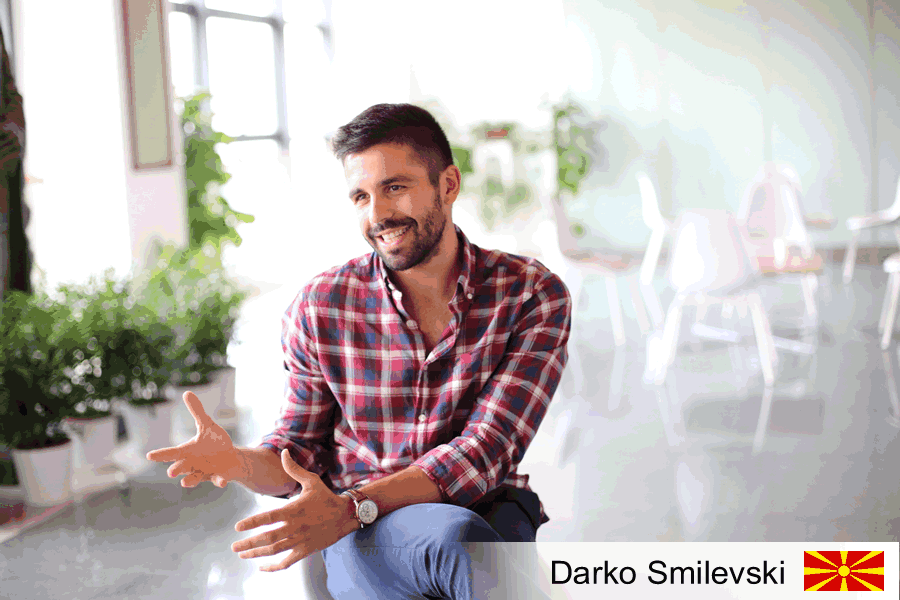 Darko
'15, Republic of Macedonia
Key words: Surprises, Diversity, Yao Ming
Honestly, before coming here I thought I was only going to stay for the duration of the programme which is two years, but the city and the opportunities it offers changed my mind.
Shanghai surprises me a lot, the possibilities, the vibe, the diversity, it really is a place where you can learn and grow, and for a business student, possibly one of the best places to be.
The programme also surprises me in that I didn't expect such a multinational class. We have the opportunity to understand not only the Chinese culture, but so many different cultures at the same time. And in a lot of the classes we are also encouraged to draw a direct comparison between the economy of China and that of Europe, of the countries we come from, which is something every business student with a global perspective should reflect and relate to.
Another cool surprise has to be Yao Ming. One day in the building I saw a huge figure walking in the corridor that could only be Yao. And only a few weeks later, when I was in a quiet classroom working on a project, someone knocked on the door and popped his head inside, it was him! He asked if he could stay here before going to his class, and of course I said yes. We talked about NBA, players, coaches, what he was doing currently and the like for about 15 minutes. And in the end he said goodbye Darko. He actually remembered my name!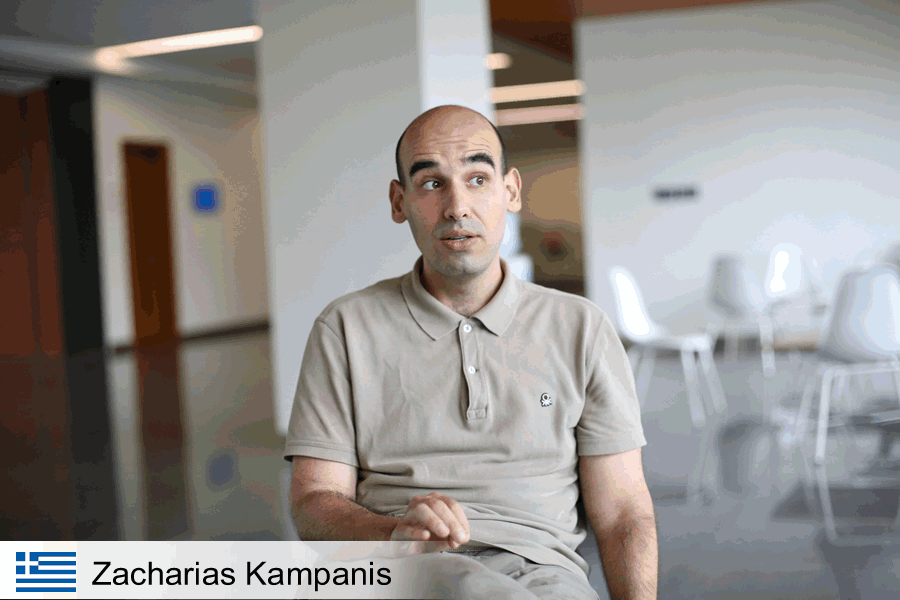 Zach
'16, Greece
Keywords: Martial arts, China hand in the making
Standing amongst the skyscrapers in Shanghai, I sometimes feel like I'm on the set of the Blade Runner movie.
I live in Athens but I come from Crete, one of the most beautiful islands on Earth and surely more beautiful than Santorini. I have studied Chinese for four years and practised Hong Quan, a form of Chinese martial arts, for five years. But when I told my friends in Greece that China is a rising economy, few understood my words.
Having finished compulsory military service in my country and worked five years in the maritime industry, I decided to come to China - the birth place of martial arts - to learn about Chinese culture. I like Beijing, but Shanghai is more modern, and the programme will help me expand my horizon.
Prof Lu Ming's course - Chinese Economy - is AMAZING! Before taking his class I've always thought I know China pretty well, but he guided us to analyse China's condition in a deeper and more logical way. We also started to use research tools to look into different problems and work out solutions. I really enjoy the course and have learned a lot.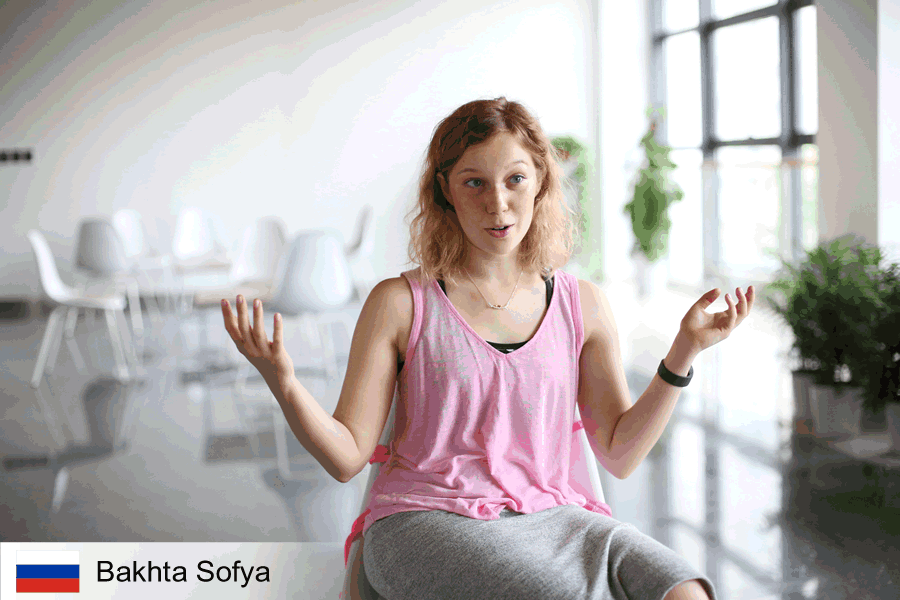 Sofya
'16, Russia
Keywords: Ofo, Taobao, Shanghai's COLD!!!
I've always wanted to go abroad and get a foreign education ever since childhood.
Personally I think it's good to go to China right now, because our countries have good relationships both economically and politically. That's why I chose China, it was my first choice.
Everyday feels new and exciting since I came here last September. Before arriving in Shanghai I learnt that winter here is relatively mild, only to find it freezing cold even for a Siberian girl like me! The shared bikes are really convenient, and I've also tried using Taobao for shopping, sometimes it's really nice, fast, good quality and cheap, but other times it's a bit difficult since I don't understand Chinese…
I chose Shanghai also because I want to feel the speed of life. I believe it's easy to stop making progress if you are always surrounded by the comfort of your hometown, and the speed of life here will push you to move, to create something, to think fast and act fast. It's a great place for young people.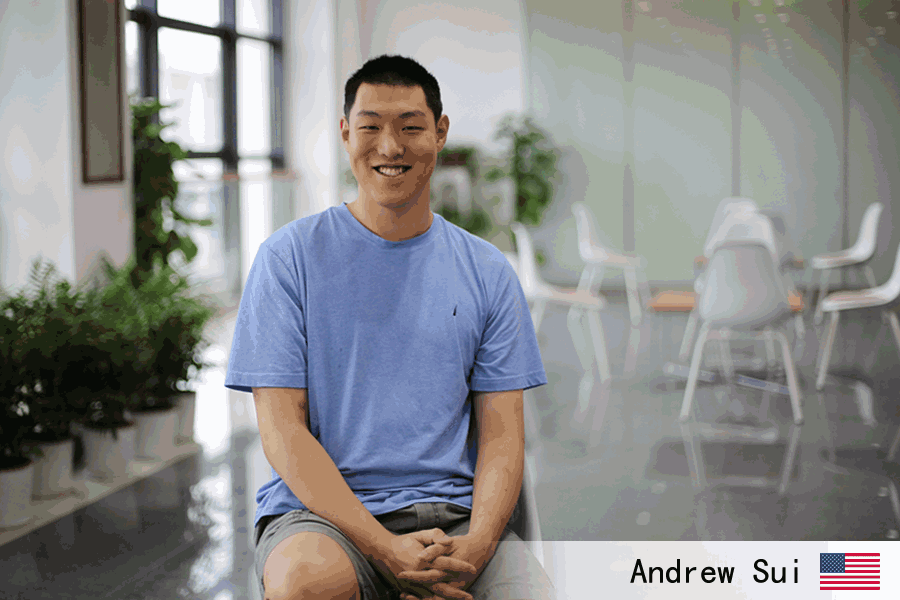 Andrew
'16, USA
Keywords: ABC, Chinese on the inside
Although my family has been in the States for nearly 30 years, we are still quite traditional. Brought up by my grandma, I speak Chinese, read Chinese, eat Chinese cuisine, and get together with all family members to have dinner for Chinese New Year. Maybe that's why I feel more akin to the local culture and much easier to integrate here than in the US - guess I'm a bit too Chinese on the inside.
The study tour to the north-eastern Shandong province this April was very special to me as it is the hometown of my father. It was my first time there but somehow I felt like coming home. My classmates and I went to the cities of Qingdao, Jinan and Qufu, we also went to Tai'an and climbed the Mount Tai.
In a restaurant of Qufu, which is a relatively small city, we were surprised to find that they didn't serve rice, the staples there were steamed buns and pancakes dipped in sugar. It was a first-hand experience of the mainly wheat-based diet in northern China, and a reminder of my happy childhood food memories.
I think study tours like these are a really good way for us overseas students to see a different and more traditional side of China, which varies a lot from Shanghai.
For MIB programme details, please click here.
Tags:business school Shanghai,mba programs in China