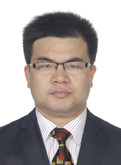 Zhang Donghong, Male, born in Dongyang, Zhejiang Province, PhD in Management, Associate Professor. He is now serving as Deputy Secretary of College CPC Committee, Antai College of Economics and Management, in charge of organization, publicity and students affairs.
He majored in Management Engineering from 1993 to 1998 in Shanghai Jiao Tong University. At the same time, he minored in automation and obtained double degrees. He received Master degree and PhD degree of Management from Shanghai Jiao Tong University in 2010. He has worked as Secretary of College Youth League, Associate Director of Minhang Basic Office and Secretary of Teachers and Students Joint Party Brunch, Director of Student Affairs, Secretary of Students Party General Branch, Director of Minhang Office.
He was granted as Excellent Volunteer of The 8th National Games, Shanghai Outstanding Graduate, New Long March pace-setter, Excellent Party Member, Excellent Employee, Excellent Student Counselor, Advanced Individual in Enrollment and Morning Star Scholar. He has published more than ten papers and has held projects such as Shanghai, Jiangsu, Zhejiang and Anhui degradable materials market research, study on student employment statistics, research on the entrepreneurial environment of College Students and a social science fund project named as Institutional Analysis of Ideological and political education policy for College Students, which is sponsored by Ministry of Education. Besides, He took part in writing and editing more than five school books, including Human resources development and training, Fifty activities to enhance Leadership, Nature-way of Enterprises, Dancing with the tiger – the success of Environmental friendly oriented enterprises, Career Choice. He has teaching experiences in Current Situation and Policy, College Student Career Guide, College Student Career Planning and Successful Career Guidance.