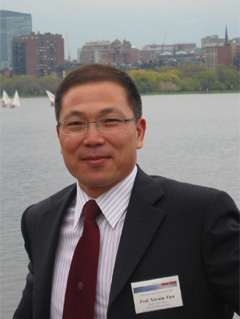 Tian, Xinmin

Deputy Secretary of CPC Committee of ACEM

Tian Xinmin, Born in Feb. 1966, Phd. in management, associate professor, is now acting as deputy Director of School's CPC Committee.
He has been long involved in teaching and doing research on the areas such as HR Management, Organizational Behavior and Applied Psychology; He has participated in research programs sponsored by Ministry of Education and manage the research programs delivered by government, companies and public institutions. He has totally published over 20 papers in domestic and oversea magazines.
Social Activities:
Vice director of Shanghai Behavior Association, Member of Shanghai 10th Political Association Religion Committee; Executive director of Shanghai Minority Association; Independent Board Director and Consultant for many companies.

PROFESSIONAL ASSOCIATIONS
- Executive Vice President of the Secretary-General of Shanghai Institute of Behavioral Science
- Director of Chinese Leadership Studies Center
- Special Adviser of Kronos Workforce Institute
- Member of International Association of Chinese Management Research
- Member of Shanghai 10th CPPCC National Religious Committee
- President of Federation of Minorities in Shanghai Jiao Tong University
- President of Federation of Minorities in Changning district of Shanghai
- Executive director of Shanghai Federation of Minorities
- Professional Consultant of Shanghai Enterprises Federation Democratic Management Committee
- Consultant of Shanghai Minhang District Government, Shanghai Urban Transport Authority, Shanghai Metro, Shentong Group, Tong Shen Assets Management Ltd. , Shenyin Wanguo Securities Co., Ltd. and Xinjiang Tianshan Cement Co. etc.
- Special Writer of Corner Office

RECENT HONORS AND AWARDS
- "National Unity Advanced Model Individuals", Awarded Chinese State Council, 2009.10 & 1994.06 (twice)
- "National Distinguished Educator in the Field of Human Resource Management", 2005.09
- "Achievements in Decision-making Policy Recommendations Advisory Research", Award by Shanghai Municipal Government, 2007.06
- "The Career Achievement", Awarded by Shanghai Federation of Minorities, 2009.10
- "Outstanding Staff in Shanghai Social Science Society", 2007.09
- "Distinguished Paper Award", Awarded by the 18th National Conference in Behavioral Science.
- "The Annual Excellent Faculty Honor", Awarded by Shanghai Jiao Tong University, 2008、2007、2006、2004、2003、2002、2001 &1998
- "Outstanding Staff in Party Affairs", Awarded by Shanghai Jiao Tong University, 2005.09
- "Outstanding Educator ", Award by Shanghai Jiao Tong University, 1996
- "Yue-Kong Pao Excellent Education Award", 1996
- "Bao-Yi Excellent Education Award", 1995
- "Anderson First Place Excellent Teacher Award", 1996
 
SELECTED RECENT PUBLICATIONS
Refereed Journal Publications (Chronological, alphabetical)
1.Impact of Transformational Leadership on Employee Organizational Citizenship Behavior: Examining a Multi-mediators Model, with Xie, Z.T., & Zhu, J.L., Science of Science and Management of S. & T., 2010, (3). (in Chinese)
2.Empirical Research on How Shopping Utilities Influence Consumers' Decision-making for Selection of Objective Supermarkets, with Xie, Z.T., & Zhu, J.L., Business Research. 2010, (1). (in Chinese)
3.The impact of Proactive Personality on Organizational Citizenship Behavior and Team Performance: Examining a Path Model, with Xie, Z.T., & Zhu, J.L., Journal of Human Resource Management. 2009, (2). (in Chinese)
4.Research on the Relationship between Informational Diversity and Team Morale under the Team Climate,with Gu, Y.J., & Li, N., Shanghai Management Science, 2008, (2). (in Chinese)
5.Research on the Mode and Choices of Independent Innovation of Enterprises, with Luo, J., & Kang, L., Science & Technology Progress and Policy, 2007,(5). (in Chinese)
6.Leadership Behavior and Organizational Transformation: From the View of Private Enterprise, with Li, Feng., Shanghai Management Science, 2007,(3). (in Chinese)
7.The Development Strategy of Generic Technology, with Guan, S.F., & Kang, L., Science & Technology Progress and Policy, 2006,(11). (in Chinese)
8.Research on the Theory of Customer Behavior in Super Market, with Xie, Z.T., & Li, N., Research on the Theory of Customer Behavior in Super Market, 2006,(4). (in Chinese)
9.Empirical Research on Career Orientation of Teachers in the Construction of Research Universities. Gu, Q.X.,& Gong, X.Q., Human Resource Development of China, 2005,(9). (in Chinese)
10.A Study on the Initiative Career Planning, with Jin, F.F., & Shi, J.T., Shanghai Management Science,2005,(6). (in Chinese)
11.A New Tool of Modern HR Management: Culture Audit, with Huang, J.Y., Shanghai Management Science,2005,(2). (in Chinese)
12.Game of Asymmetric Information of Quality Cost in Supply Chain, with Zhu, X., Wu, S.J., & Wang H., Industrial Engineering and Management 2005.(10).
13.Discuss of Flexible Human Resources Management Strategy, with Huang, J.Y., Productivity Research, 2004,(8). (in Chinese)
14.Introduction on the Modern Flexible Management Theory, with Zhu, J.F., & Huan, J.Y., Shanghai Management Science, 2004,(1). (in Chinese)

Books
1.Flexible Human Resource Management------New Perspectives in Strategic Human Resource Management. Shanghai: Shanghai Jiao tong University Press. (2008) ISBN: 978-7-313-04750-2/F
2.Flexible Human Resource Management. Shanghai: Shanghai Jiao Tong University Press. (2007).ISBN: 978-7-313-04750-2
3.Career and Employment-- Career Planning and Development for University Students (Third Version). Shanghai: Shanghai Jiao Tong University Press. (2008). ISBN:978-7-313-02700-9/G
4.Job Category and Career Development for University Students. Shanghai: Shanghai Jiao Tong University Press. (2004).
5.Career and Employment. Shanghai: Shanghai Jiao Tong University Press. (2001).

Refereed International Conference Proceedings
1.Effect of Justice Climate on Team Member Creativity: the Mediating Role of Leader-Member Exchange,with Xie, Z.T., & Zhu, J.L. Proceedings of 2009 International Conference on Information Management, Innovation management, Industrial Engineering, 2009, EI & ISTP.
2.A Cross-level Perspective on Employee Creativity: Positive Affect, Team Creative Climate, and Employee Creativity,with Xie, Z.T., & Zhu, J.L. Proceedings of 2009 International Conference on Innovation and Management,2009, ISTP.
3.Employee Creative Behavior in China An Application of Justice Theory,with Xie Z.T., & Zhu, J.L. Proceedings of 2009 International Forum of Human Resource Strategy and Development, 2009, ISTP
4.On the Relationship between Perceived Performance, Consumer Satisfaction, and Restaurant Loyalty,Proceedings of 2004 International Conference on Management Science and Engineering, Harbin, China, 2004.8, ISTP,ISBN 7-5603-1855-X/F.289
5.Chinese Graduates' Concepts of Choosing Occupations-Survey & Analysis,Proceedings of the 27th ARTDO International Management and HRD Conference, PENANG, MALAYSIA, 2000.9, ISBN 7-5603-1855-X/F.289

GRANT ACTIVITIES (Partial listing)
1.The Impact of Justice on Creativity: A Multi-foci, Multi-level Framework. National Natural Science Foundation of China (NNSFC), 2010-2012.
2.Research on the Technological Leapfrogging Mode Based on SPIPRO Methodology. National Natural Science Foundation of China (NNSFC), 2005-2007. (Co-investigator)
3.Research on the Institution to Enhance the Innovation Capabilities of Large Sized State-Owned Enterprises, Key Project, Shanghai Science & Technology Committee Funds, 2005-2006
Award "Achievements in decision-making policy recommendations Advisory Research", Shanghai Municipal Government, 2007.06
4.Research on the Appraisal of College Faculty' Job Performance: a Strategic Perspective. The Key Project of Ministry of Education Funds, 2009-2010. (Co-investigator)
5.Research on Human Resources Management in Chinese Enterprise: "4 Change" Development. One of the Branch Projects of Ministry of Education Humanitarian Society Science Studies Fund of Doctoral Degree Program Funds, 2003-2004. (Co-investigator)
6.Research on the Postgraduate Employment Issue. One of the Branch Projects of Ministry of Education Funds.
7.Job Analysis for the Vocational Counselors. College Career Development Education Research Fund of Shanghai Municipal Education Committee, 2006.
8.Research on Improving the Guiding Work of Getting Jobs for College Graduates Based on Career Development. Education Science Foundation of the Education Commission of Shanghai, 2009. (Co-investigator)
9.Research on Strategy Planning of the Prior Development of Urban Public Transportation in Shanghai. Foundation of Shanghai Public Transit Bureau, 2007.
10.Identification of Key Elements of Effective Business Leadership in China. Joint Project of Creative Center for Leadership and Shanghai Jiao Tong University, 2004.
11.Empirical Study on the Relationship between Strategic Human Resource Management HR Management and Faculty Teaching Performance. Shanghai Education Committee, 2004-2005
12.Human Resource Development Planning. Municipal Government of Minhang District in Shanghai, 2003.
13.Study on Restructuring Program for Service Center for Human Resources. Bureau of Personnel of Xuhui District in Shanghai, 2003.
14.Evaluation of Informatization Construction of Qingpu District. Informatization Committee of Qingpu District, 2005
15.Research on Management System and Running-mechanism of the Personnel marketization. Personnel Market Project of Shanghai, 2003.
16.Performance Appraisal and Compensation Management. Henan Transportation Investment Group, 2010.
17.Job Analysis and Performance Appraisal. Shanghai First Biochemical Pharmaceutical Co., Ltd., 2009-2010
18.Opinions on the Implementation of the Performance Evaluation of Sales. Shanghai Shentong Subway Capital and Operation Management Co., Ltd., 2008.9.1-2008.10.31
19.Human Resources Planning Projects for Shanghai Shentong Subway Asset Management Co.,Ltd. Shanghai Shentong Subway Capital and Operation Management Co., Ltd., 2008.4~2008.7
20.Telecommunication Cooperation Model Consulting for Information Development Division of Shanghai Shentong Subway Asset Management Co.,Ltd., Shanghai Shentong Subway Capital and Operation Management Co., Ltd.. 2008.4~2008.7
21.Consulting Project of the Business Model of Value-added Service for Shanghai Shentong Subway Asset Management Co.,Ltd. Shanghai Shentong Subway Capital and Operation Management Co., Ltd., 2008.4~2008.7
22.Consulting Project of the Evaluation System of Supplier for Shanghai Shentong Subway Asset Management Co.,Ltd. Shanghai Shentong Subway Capital and Operation Management Co., Ltd., 2008.5-2008.12.30
23.Brand Strategy Planning for Shanghai Shentong Subway Asset Management Co.,Ltd. Shanghai Shentong Subway Capital and Operation Management Co., Ltd., 2008.4.20-2008.8.31
24.Research on the Index System and Evaluation System of Shanghai Metro Transportation Network. Shanghai Metro Operation Co., Ltd., 2008.01-2008.07
25.Employee Performance Evaluation and Salary Management. Hanchuan Machinery Group Co., Ltd., 2008.01-2008.07
26.Research on the Implementation of the Three-year Priority Plan of Shanghai Public Transport. Shanghai City Transportation Administration Bureau, 2007.04-2007.11
27.A Modeling Analysis of Career Counseling Professional Posts. Shanghai University Graduates Employment Guidance Center, 2006.07-2006.12
28.Remuneration Management Consultation for Shanghai Metro Operation Co., Ltd., Shanghai Metro Operation Co., Ltd. 2006.03-2007.01
29.Human Resources Planning of Shanghai Metro Operation Co., Ltd., Shanghai Metro Operation Co., Ltd. 2006.03-2007.01
30.Remuneration and Performance Management of Shengtong Metro Company. Shanghai Shentong Subway Capital and Operation Management Co., Ltd., 2005.10-2006.12
31.HR Consultation Project for Shanghai Shentong Corp. Ltd. Shanghai Shentong Corp. Ltd. 2005.07-2005.10
32.Research on the Strategic Plan of Shanghai Metro Operation Co., Ltd.. Shanghai Metro Operation Co., Ltd.. 2005.06-2005.12
33.Research on the Operation and Production Evaluation System of Shanghai Metro Operation Co.,Ltd. Shanghai Metro Operation Co., Ltd. 2004.10-2005.01
  
Dr. Tian Xinmin has been appointed as consulting expert of Shanghai Minhang District government, Shanghai Urban Transportation Authority, Shanghai Metro, Shentong Group, Tong Shen Assets Management Ltd. , Shenyin Wanguo Securities Co., Ltd. and Xinjiang Tianshan Cement Co.

PROFESSIONAL ASSOCIATIONS
- Executive Vice President of the Secretary-General, Shanghai Institute of Behavioral Science
- Director, Chinese Leadership Studies Center
- Special Adviser, Kronos Workforce Institute
- Member, International Association of Chinese Management Research
- Member, Shanghai 10th CPPCC National Religious Committee
- President, Federation of Minorities in Shanghai Jiao Tong University
- President, Federation of Minorities in Changning district of Shanghai
- Executive director, Shanghai Federation of Minorities
- Professional Consultant, Shanghai Enterprises Federation Democratic Management Committee
- Consultant of Shanghai Minhang District Government, Shanghai Urban Transportation Authority, Shanghai Metro, Shentong Group, Tong Shen Assets Management Ltd. , Shenyin Wanguo Securities Co., Ltd. and Xinjiang Tianshan Cement Co. etc.
- Special Writer, Corner Office