Guest speaker: Shi Mingde, senior diplomat, President of China Germany Friendship Association, former Embassador Extraordinary and Plenipotentiary of China to Germany, former China's Ambassador to Austria
Speech time: April 26, 2021 (Monday), PM 3:30-5:30
Speech place: A300, Antai College of Economics & Management, Shanghai Jiao Tong University
Host: Professor Chen Fangruo, dean of Antai College of Economics & Management, Shanghai Jiao Tong University, Dean of Industry Research Institute of Shanghai Jiao Tong University
Summary
Today's world is in a great change that never happened in the past century. Profound changes are taking place in the world structure, international relations and international order. The relations between the several important pairs of big powers are both competitive and cooperative. As for China-EU relations, cooperation is greater than competition. Unlike the China-US relations, there are no structural contradictions that are difficult to reconcile between China and the EU. On the contrary, they share many common interests and appeals. The key to developing China-EU relations is to increase common interests through cooperation, constantly open up new areas of cooperation, expand the connotation of cooperation, and properly control and resolve the differences.
Germany is the largest industrial power in Europe. In just a few decades, it has created an economic miracle on the basis of the ruins after World War II, and makes the whole world compete to study and learn the management mode of German enterprises. The core reason why German enterprises are able to establish a benchmark position in the eyes of global customers and competitors is the high concentration and specialization, which is the common character and management soul of many German enterprises. On the one hand, German enterprises are concentrated on high-end, segmented and niche markets, and have absolute advantages in product R&D and manufacturing depth; on the other hand, both large enterprises and SMEs actively explore the international market, ensuring the breadth of product marketing. Although many German enterprises are not known by ordinary consumers, they have an extremely high market share and unique brand influence in the global market segments. In the international market, there even are no substitutes for the products of many German SMEs. What is the reference significance of German economic rise and its internationalization strategy for China's industrial enterprises?
Profile of Mr. Shi Mingde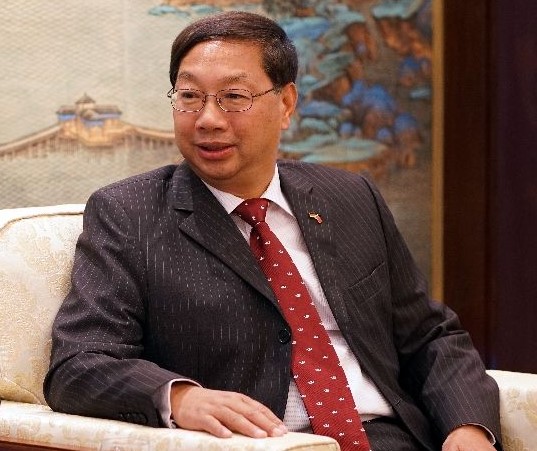 Shi Mingde was born in Shanghai in January, 1954. As a senior diplomat, he worked in Germany for a long time, and successively served as a staff member and the second secretary of the China's embassy in German Democratic Republic; the first secretary, counselor, Minister-Counselor and Minister of China's Embassy in Germany; the director of the Policy Research Bureau of the Foreign Affairs Office of the CPC Central Committee; and China's ambassador to Austria. He served as the Ambassador Extraordinary and Plenipotentiary of China to Germany from August 2012 to April 2019. On August 6, 2020, Shi Mingde was elected the new president of China Germany Friendship Association.
During Shi Mingde's six and a half years as China's ambassador to Germany, great progress had been made in bilateral relations between China and Germany. President Xi Jinping visited Germany twice, Premier Li Keqiang visited Germany four times, and German Chancellor Angela Dorothea Merkel visited China six times. China and Germany have established high-level financial dialogue, strategic dialogue on foreign affairs and security, high-level people-to-people exchange and dialogue, high-level security dialogue and other mechanisms, and conducted more than 70 bilateral dialogues and consultations. By 2018, Germany had maintained its position as China's largest trading partner in Europe for 43 consecutive years, and China had become Germany's largest trading partner in the world for the third consecutive year. In 2018, the bilateral trade volume between China and Germany was close to 200 billion euro, and there were 500 newly added German investment projects in China. Digitalization, artificial intelligence, new energy vehicles and automatic driving have gradually become new growth points of innovation and cooperation between the two sides. At the same time, China and Germany are committed to maintaining multilateralism and free trade, building an open world economy, and adding stability to world peace, development and prosperity with the certainty of Sino-German cooperation.

With the 47 years of diplomatic career and 28 years of experience in Germany, Shi Mingde has become an important founder of the construction and development of Sino-German relations in the new era, and also an important witness of the quietly changing attitude of Europe towards China in the process of China's peaceful rise.
Tags:business school Shanghai,mba programs in China