1.Introduction of the University and ACEM
Shanghai Jiao Tong University (SJTU), directly subordinate to the Ministry of Education, is a key university in China, jointly run by the Ministry and Shanghai Municipality. SJTU has developed into a comprehensive, research-oriented, and internationally famous university. SJTU, formerly the Nang Yang Public School, was founded in 1896. It is one of the oldest universities in China. The University, through its century-long history, has nurtured large numbers of outstanding figures and made significant contributions to the thriving and prosperity of the nation and the development of science and technology. Its famous alumni include JIANG Zemin, QIAN Xuesen, WU Wenjun, WANG An and so on. Of all the academicians of China's Academy of Sciences and Academy of Engineering, more than 200 are the alumni of Jiao Tong University.
Antai College of Economics and Management (ACEM), which was founded in 1918, is one of the earliest management schools in China that offer the courses of management. ACEM has obtained the membership of Association to Advance Collegiate Schools of Business (AACSB), European Foundation for Management Development (EFMD), Association of Asia-Pacific Business Schools (AAPBS) and EMBA Council. In 2008, ACEM achieved EQUIS and AMBA accreditation, and has become only business school in China mainland double-accredited by the top international accreditation systems currently.
SJTU EMBA program is a master degree education of business administration targeting at the senior managerial staffs in enterprises and businesses or government administration departments.
Vision of SJTU EMBA program is to become the world-leading EMBA program.
Mission of SJTU EMBA program is to contribute managerial wisdom, nurture ethical leaders for social and economic development.
Objective of SJTU EMBA program is to design for the senior managers to help them broaden their horizons, enrich the knowledge in management, promote leadership, establish and expand the inter-personal relationship and business network, acquire modern enterprise management theories and approaches for decision-making, as well as the latest's development of international economics and technologies, get in-depth knowledge of international and domestic business operations, acquire the capability and knowledge required for setting enterprise development strategies.
Allocation of SJTU EMBA program is to develop students' global perspectives on business, strategic mindset, excellent leadership and ethical social responsibilities
Evaluation from the market on SJTU EMBA program:
 SJTU EMBA program ranks 1st continuously for "The Best Leading EMBA Program in China ".in 2007,2008 and 2009.
 SJTU EMBA program was awarded "Annual leadership" in "2008 Taste Annual Event" sponsored by Pinwei Magazine and Bauer Media Group
 SJTU EMBA program was awarded "The Best Performance of China's EMBA 2008" in Hurun's Report of "Preferred Brands of China's Richest".
 The honors of Honor Graduate, Excellent Member of China MBA and Social Responsibility Member of China EMBA were awarded to the students of SJTU EMBA program and SJTU has the most awarded students. in "The Best Leading EMBA Program in China "and "Development Forum of China MBA"
Evaluation from the government department on SJTU EMBA program:
 An excellent evaluation was given to SJTU EMBA program in the first assessment organized by the Academic Degree Committee of the State Council in 2005.
2. Admission Requirements
Bachelor degree or above.
Minimum of 8 years work experience, and 5 years of managerial experience.
According to the current guideline from Academic Degree Committee of the State Council of the People's Republic of China, maximum 10% of enrolled students, excellent senior managers or entrepreneurs with a college degree, are allowed to admit to the EMBA program.
3.Applications
To fill in the application form, by completing:
(1) the hard copy which is available from the EMBA office of ACEM; or
(2) the online application (www.acem.sjtu.edu.cn, or www.gschool.sjtu.edu.cn)
To submit both original copy and photocopy of degree certificate.
Application Fee of 800 RMB.
4. Target Size and Commencement Date
Target Size: 400 students for the year 2010 (Spring Intake and Autumn Intake).
Three professional tracks: (1) Comprehensive Management, (2)Financial Management, (3) International program i.e AEMBA(which is a SJTU-Euromed Marseille International dual-degree EMBA , taught in English. After successfully completing the courses and passing the thesis defense, students will be granted EMBA degree from both SJTU and Euromed Marseille Ecole de Management.
Program Commencement for Autumn Intake: October, 2010.
5. Entrance Exam and Admissions Decision
Both interview and written exam on the SJTU Antai compus are required for admission to the program. Admission decisions will base on the scores of the written and interview, while the learning ability, career achievements, leadership skills, and individual potential will also be taken into consideration.
Applicants who passed the preliminary evaluation of qualification and the entrance exam can be admitted, and admission decisions are announced via a letter sent by mail.
In addition to the above exams, applicants of AEMBA need to attend the interviews arranged by Euromed Marseille Ecole de Management.
The schedule of Entrance Exam and Tutorials for EMBA 2010 autumn Intake
| | | |
| --- | --- | --- |
| | Tutorial | Entrance Exam |
| First time | August 1,2010 (Sunday) | August 8,2010 (Sunday) |
| Second time | September 5,2010 (Sunday) | September 12,2010 (Sunday) |
| Third time | October 9,2010 (Saturday) | October 10,2010 (Sunday) |


6. Program Schedule and Tuition Fee
It is a 2 years part-time program, offered collectively in four consecutive days per month, from Thursday to Sunday.
The program tuition fee (RMB 388,000) covers the following expenses: lectures, books, handouts, translation, usage of computer lab and library, and lectures for business study tour. But the expenses of accommodation and transportation are not included.
7. Degree Certificate
Approved by the Degree Administration Committee of the State Council, after successfully completing the courses and passing the thesis defense, candidates will be granted the degree of Executive Master of Business Administration Shanghai Jiao Tong University. The degree is acknowledged by relevant state authority.
Candidates for AEMBA can be granted the EMBA degree of Euromed Marseille Ecole de Management, after successfully completing the courses and passing the thesis defense.
8. Curriculum
Three courses systems: Knowledge-oriented Courses, Problem-oriented Courses and Market-oriented Courses.
Three integration projects : Corporate Profit Module, Corporate Performance Improvement and Corporate Strategy Planning.
The curriculum of EMBA program of SJTU is systemic and practical, covering different fields of management science. Compared with MBA program, EMBA program pays great attention to integrity and decision-making. It focuses more on the international competitive environment and closely combination with real practices.
According to the objective to develop the leadership, The curriculum of SJTU EMBA program is set around forming , consolidating and promoting of leadership, consists of 3 courses systems: Knowledge-oriented Courses, Problem-oriented Courses and Market-oriented Courses. The curriculum can significantly improve the student's ability on diagnosing problem, solving problem and formulating correct strategies
Through three extremely unique integration projects which is linked together tightly and interact as both cause and effect each other throughout the learning process, the student can realize clearly his/her advantages and disadvantages on leadership, and know how to improve his /her leadership in the future
Besides three courses systems and three integration projects, SJTU EMBA program also integrates in-class lectures, case analysis, management practices, company visit, and so on, closely combines the theoretical knowledge with real practices, and achieve the goal of nurturing ethical leaders in class.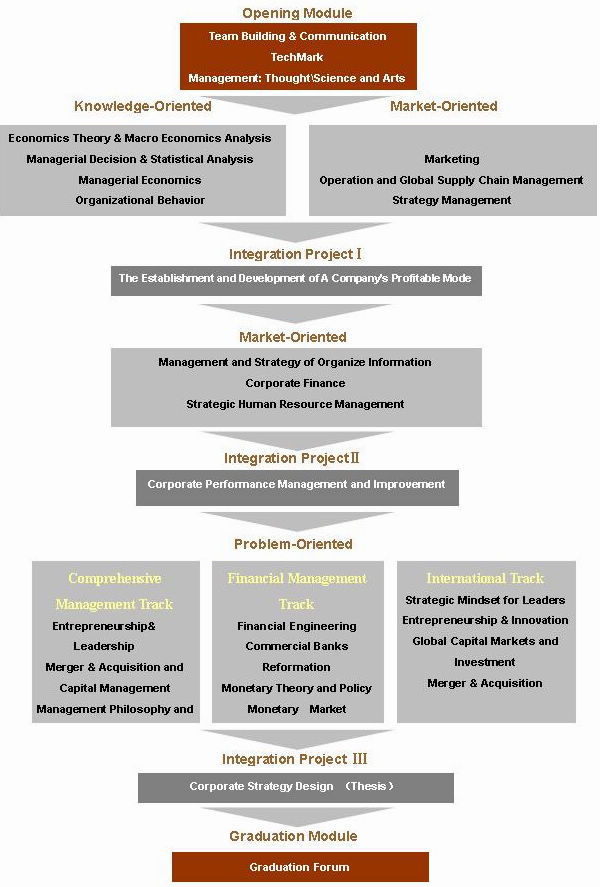 9. Teaching Methods
Have been going through the traditional teaching ways such as Lecturing and case-teaching, the program has gradually formed the integrated experiential training mode which adopts a variety of teaching ways: in-class lectures, case analysis, management practices circumstance simulation, project work, company visit, Forum, moving class and overseas study tour. With the training mode, the first class, the second class and the third class are organically integrated, the goal of nurturing ethical leaders in class is realized
SJTU-Euromed Marseille International dual-degree EMBA ,is a 100% English-teaching program. It provides an innovative learning platform. Through their own strategic consulting projects, students can achieve learning goals with the three pillar support in the atmosphere of making strategic decision within the board of directors of the company. The first pillar support: Senior Professors. They instruct the students as coaches with their rich experience of practice and theory .It avoids the problems as passive listening, lacking pertinence, lacking interaction, and so on during the learning process. The second pillar support: actual cases. Students can, under the guidance of experts and professors, make actual diagnosis of the cases from their own companies and submit the consulting reports. This can make students have ability of rapidly entering into a new industry and management field. The third pillar support: consulting think-tank. The experts from famous consulting company will participate in the teaching process, and provide intelligence aid for the strategic consulting projects. Other teaching ways will be adopted, such as project work, keynote speech,and study tour in foreign countries.
10.Teaching Expertise
The teaching expertise of EMBA is formed on the base of the outstanding SJTU professors, united with excellent expertise from Columbia University, Washington University, University of Southern California, University of South Carolina, GE, Dell and International Institute for Management Development. With not only accomplishments in studies, but also deep insights of management theories and abundant practice experience, they will bring the students modern management theories and strategic thoughts combined with Chinese management practice, which formed the feature of the EMBA program of ACEM, SJTU.
11. Contact us
EMBA Office,Antai College of Economics & Management, Shanghai Jiao Tong University
Address: Rm 103,105,107, Antai Building, 535 Fahuazhen Road, Shanghai ,China
Post Code:200052
Tel: 86-21-62932603, 62932628, 62933678
Fax: 86-21-52301297
E-mail: admission_emba@sjtu.edu.cn
Web: www.acem.sjtu.edu.cn
Tags:business school Shanghai,mba programs in China