China Finance Review International 2022-05-05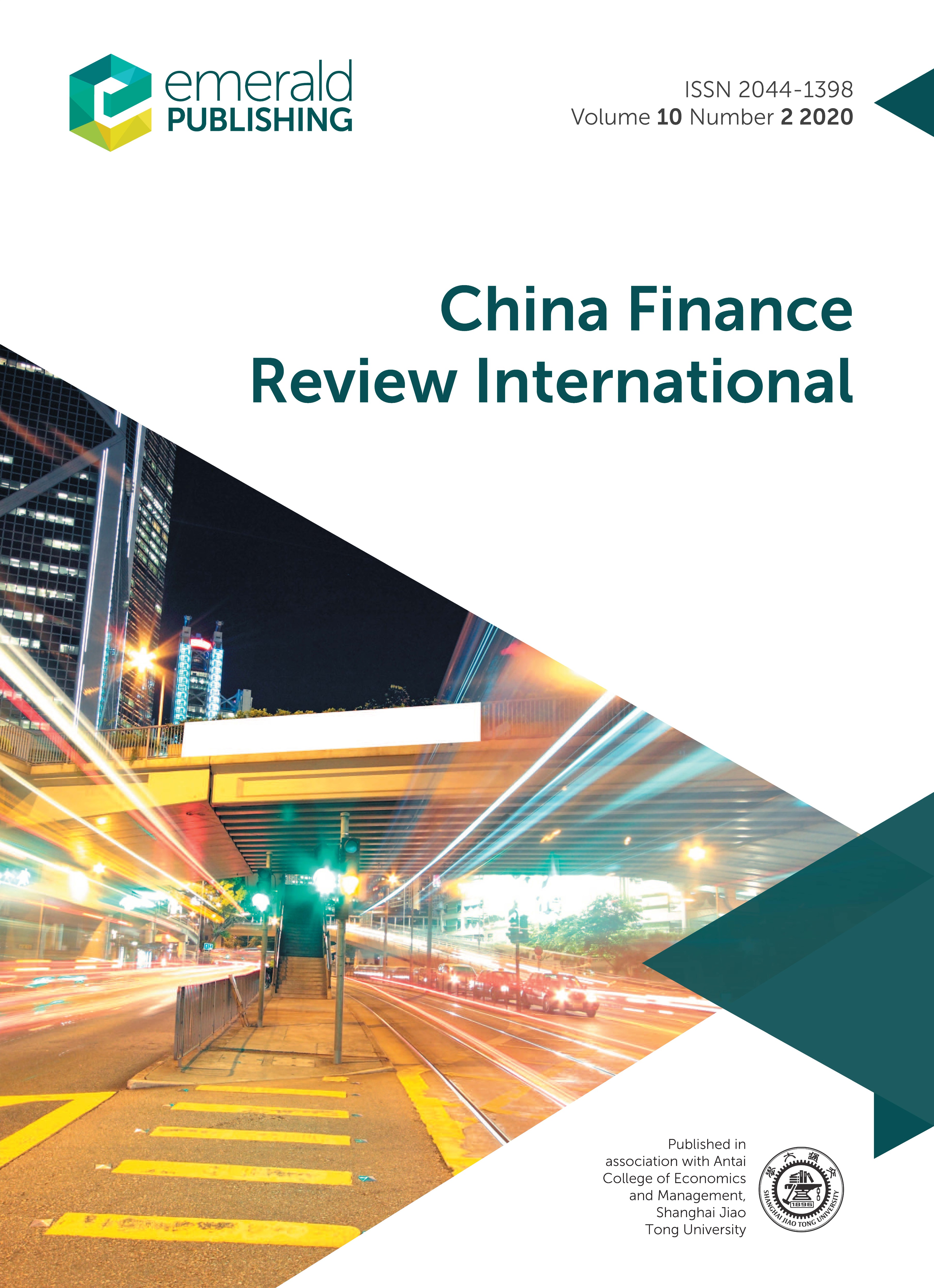 The China Finance Review International is a flagship academic journal broadly covering the Chinese and international financial markets. The journal is founded by Antai College of Economics and Management at Shanghai Jiao Tong University, one of the top universities in Asia.
The China Finance Review International aims to publish quality empirical and theoretical works on important finance and economic issues in the profession. We encourage ground-breaking research related to new and niche areas in finance, such as Fintech and cryptos, ESG, climate finance and socially responsible investments. We welcome critiques of existing literature and comparative analysis between emerging markets and developed economies.
Aims and Scope
It acts as a medium between financial economists from China and all over the world to share their views and investigate a wide range of issues including, but not limited to:
Asset pricing

Corporate finance and governance

Corporate social responsibilities

Fintech and cryptos

Financial innovations

Financial intermediation

Digital economy and finance

International finance

Green and Sustainable Finance

Derivatives

Macro finance

Climate risk and finance

Financial econometrics

Household finance and financial planning

Behavioral finance

Risk management and insurance
CFRI has been accepted by the Web of Science Emerging Sources Citation Index (ESCI) and indexed in Scopus since 2016. Currently the journal has a mock impact factor of 3.16, it has a CiteScore of 2.9 in Scopus. It is also listed in key journals' ranking lists, such as The Association of Business Schools' (ABS) Academic Journal Guide, The Australian Business Deans Council (ABDC) Quality Journal List and FMS Journal Rating Guide (ranked 34/78, Finance). We hope to have your support to the journal and wish we will have your work published in the journal. Please pass the message to your colleagues and associates in case you have appropriate works.
Good reasons to publish in China Finance Review International
Fast and high quality peer review

Rapid publication upon acceptance

No article-processing charges (APC)

Indexed by WOS, Scopus, ABS and ABDC

Free English language editing/polishing service

Widest possible global dissemination of your research
Examples of CFRI papers

FinTech and household finance: a review of the empirical literature by Sumit Agarwal (National University of Singapore) and Yeow Hwee Chua (National University of Singapore), Vol. 10 No. 4, https://doi.org/10.1108/CFRI-03-2020-0024
Implicit and explicit norms and tools of safety net management by Edward Kane (Boston College), Vol. 10 No. 3, https://doi.org/10.1108/CFRI-12-2019-0163
Textual analysis for China's financial markets: a review and discussion by Alan Huang, (University of Waterloo), Wenfeng Wu (Shanghai Jiao Tong University) and Tong Yu (University of Cincinnati), Vol. 10 No. 1,https://doi.org/10.1108/CFRI-08-2019-0134
Ownership identity and corporate donations: evidence from a natural experiment in China by Chun-Keung (Stan) Hoi (Rochester Institute of Technology), Jun Xiong (City University of Hong Kong) and Hong Zou (University of Hong Kong), Vol. 10 No. 2, https://doi.org/10.1108/CFRI-11-2019-0154
Catastrophe risk, reinsurance and securitized risk-transfer solutions: a review by Yang Zhao (Nankai University), Jin-Ping Lee (Feng Chia University) and Min-Teh Yu (National Tsing Hua University), Vol. 11 No. 4, https://doi.org/10.1108/CFRI-06-2021-0120
Consumer finance / household finance: the definition and scope by Jingjian Xiao (University of Rhode Island) and Chunsheng Tao (Minzu University of China), Vol. 11 No. 1, https://doi.org/10.1108/CFRI-04-2020-0032
The causes and challenges of low interest rates: insights from basic principles and recent literature by Youchang Wu (University of Oregon), Vol. 11 No. 2, https://doi.org/10.1108/CFRI-06-2020-0071
Government support for SMEs in response to COVID-19: theoretical model using Wang transform by Shaun Shuxun Wang (Southern University of Science and Technology), Jing Rong Goh, Didier Sornette, He Wang and Esther Ying Yang, Vol. 11 No. 3,https://doi.org/10.1108/CFRI-05-2021-0088
Familial altruism and reputation risk: evidence from China by Hanqing "Chevy" Fang (Missouri University of Science and Technology), Yulin Shi (University of Manitoba) and Zhenyu Wu (University of Manitoba), Vol. 11 No. 4, https://doi.org/10.1108/CFRI-01-2021-0016
Geopolitical risk, economic policy uncertainty and asset returns in Chinese financial markets by Thomas C. Chiang (Drexel University), Vol. 11 No. 4, https://doi.org/10.1108/CFRI-08-2020-0115
Financial statement analysis: a review and current issues by Andrew B. Jackson (UNSW Business School), Vol. 12 No. 1, pp. 1-19. https://doi.org/10.1108/CFRI-10-2021-0208
Are corporate social responsibility reports informative? Evidence from textual analysis of banks in China by Jerry C. Ho (Queensland University of Technology), Vol. 12 No. 1, pp. 101-120. https://doi.org/10.1108/CFRI-04-2021-0081
An index of cryptocurrency environmental attention (ICEA) by Yizhi Wang (Trinity Business School), Brian Lucey (Trinity Business School), Samuel Alexandre Vigne (LUISS Business School) and Larisa Yarovaya (University of Southampton), forthcoming. https://doi.org/10.1108/CFRI-09-2021-0191
Submission Guidelines
The journal operates a double-blind peer review system. There is no submission fee. To submit to the journal, please use the CFRI's online submission and review system at: http://mc.manuscriptcentral.com/cfri. If you would like to discuss your paper prior to submission, or seek advice on the submission process please contact the CFRI, Editorial Office (Shanghai Jiao Tong University), at the following email address: cfr@sjtu.edu.cn. For more information on the journal, please visit: http://www.emeraldgrouppublishing.com/cfri.htm
CFRI is Indexed and Abstracted in:
Web of Science

SCOPUS

ABI

CNKI

Dimensions

EBSCO

Google Scholar

NSD (Norway)

ProQuest

Polish Scholarly Bibliography

RePec

ReadCube Discover

Summon

Cabell's Directory

Higher Education Commission (HEC) Journals Recognition
Ranked in:
The Chartered Association of Business Schools' (ABS) Academic Journal Guide

The Australian Business Deans Council (ABDC) Quality Journal List

The Australian Research Council ERA Journal List

The Publication Forum (Finland)

FMS Journal Rating Guide