2017 MIB Info Session
Publisher : Teaching Affiars Administration Time : 2017-03-28
Information Session of
Master of International Business
Antai College of Economics & Management, Shanghai Jiao Tong University
Master of International Business (MIB) programme is an English program tailored designed for international students. The program aims to create a culturally diverse community and develop future leaders with comprehensive understanding of global business and deep insights into the Chinese economy.
Since its launch in 2013, MIB has become one of the most popular and most highly regarded program in China, with applicants number increasing by the year. In 2016, the program enrolled 73 students from 36 countries around the world.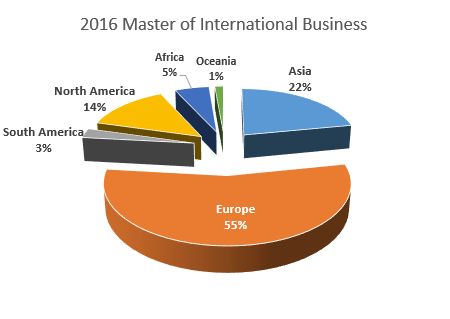 We're going to have a series of information sessions around China. In the info sessions, admission team from Antai College will introduce MIB program and admission briefing for the intake of 2017 fall.
You can also join us if you're interested in our Chinese programs.
No.

City

Time

Location

1

Shanghai

7th April (Fri.)

14:00-16:00

Rm S209, Xin Shang Yuan Building, Xuhui Campus, Shanghai Jiao Tong University, 1954 Huashan Rd

2

Nanjing

15th April(Sat.)16:30-17:30

Rm.217, South Teaching Building Gulou Campus, Nanjing University

3

Wuhan

15th April(Sat.)16:30-17:30

No.1037 Yudong Rd.,Academic Hall,College of Economics, Huazhong University of Science and Technology

4

Xi'an

22nd April(Sat.)13:30-15:30

Main BLD A-204, Xi'an Jiao Tong University, No 28, West Xianning Rd, Xi'an

5

Hangzhou

22nd April(Sat.)14:00-16:00

Rm 1102, Admin BLD, Zijingang Campus of Zhejiang University, No 866, Yuhangtang Rd, Hangzhou

6

Beijing

6th May (Sun.)

16:00-17:30

No 1 Meeting Rm, Jiabin BLD, Youyi Hotel, No 1, South Zhongguancun Ave, Beijing

7

Shanghai

13th May(Sat.)16:00-17:30

Rm.A301,Antai College, No.1954 Huashan Rd.,Shanghai

8

Chengdu

7th May (Sun.)

13:30-15:30

Rm 103, Business School, Sichuan University, No 29 Wangjiang Rd, Chengdu City

9

Guangzhou

13th May(Sat.)14:00-16:00

The university campus of SunYat-sen University
Contacts
Fred Liu, Alice Zhou
Tel: 86-21-52301352, 52301031
Email: join_antai@acem.sjtu.edu.cn
You can also follow us on Wechat(MIB_ACEM_SJTU) or LinkedIn(Antai College Master of International Business)