MIB Workshop:Using the Library Effectively and Efficiently
Publisher : Teaching Affiars Administration Time : 2016-03-03
Topic: Using the Library Effectively and Efficiently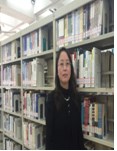 Time: 10:00-11:30pm, March 3rd, 2016
Venue: Room A511, Pao Sui Loong Library, Xuhui Campus
Lecturer: Huang Wenli
Abstract:
SJTU Library has a collection of 3,26 million printed books and 399 databases, and its rich academic resources are a great help to students' theses writing. We try to help international students to develop the ability to use SJTU library effectively and efficiently by an introduction to the library services, academic resources and sharing some strategies for literature search which is vital to the preparation for literature review.
Guest speaker (Bio):
Huang wenli is currently librarian in Shanghai Jiaotong University. She obtained her master degree in English Language& Literature from Zhejiang University in 1999. Her translation works have been published by People's University Publication House, Shanghai People's Fine Arts Publishing House, etc.