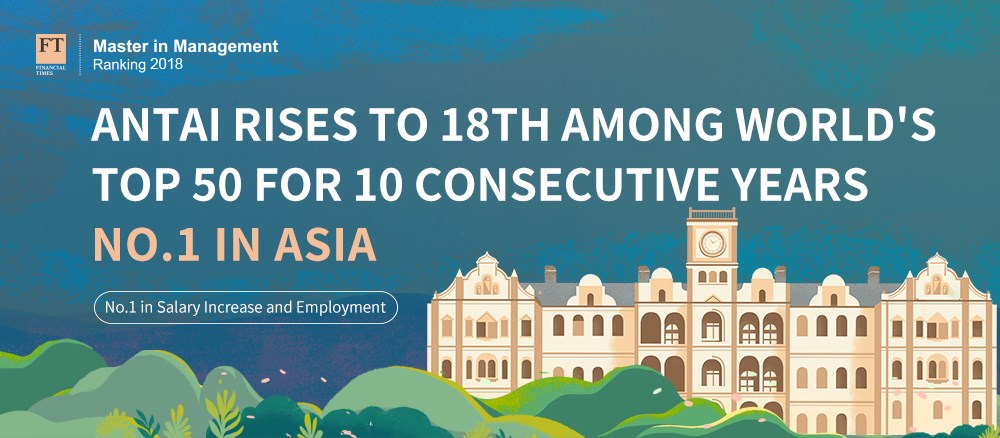 On Sept. 10 2018, the FT Masters in Management Rankings 2018 were released by the Financial Times of UK. The Masters in Management of Antai College of Economics & Management, Shanghai Jiao Tong University, rose to 18th in the world and 1st in Asia. So far, the MiM of Antai is the first academic MiM program in China to take part in the FT Rankings and remain in the global top 50 for ten consecutive years.
According to the indicators in the FT MiM Rankings 2018, Antai's rank for faculty research datas and internationalization improved steadily; its alumni career progress rank remained top in the world: 1st in the world for "employed at three months", 1st in the world for a second successive year for "salary percentage increase", and 4th in the world for "careers service rank", 15th in the world for "career progress rank", which is 6 places higher than last year.
Antai's Master in Management is an academic master's program. Its international rank has improved for ten consecutive years, which proves Antai's solid academic ability and overall strength. Among the most prominent are Antai alumni's high professional competitiveness and innovative practice in the context of globalization. Antai's rank has improved greatly because of its remarkable faculty, high-quality students' sources and professional student service teams. In addition, internationalization is one of the priorities of Antai. At present, 34% of its faculty have foreign doctorates. Antai has signed dual degree programs with many famous foreign business schools, including ESCP, Instituto de Empresa, University of Southern California and Rice University, etc. There are 69 international students in the newly enrolled students in 2018, accounting for 25.3 % of all freshmen.
Dean Prof. Fangruo Chen pointed out: "Antai's MiM program is the first academic MiM program in China to participate in the authoritative international rankings. The result shows Antai's academic strength. On this basis, we will further inject the impetus of pragmatism and innovation, striving to build Antai into a world-class Chinese business school!"
The authoritative international rankings have verified Antai's international influence in an all-round way. Antai is the only business school in China among the top 40 in the world for all the four core programs. By virtue of the outstanding performance of all its programs, Antai ranked 1st in the Business Schools: Asia-Pacific 2017. There were four business and management disciplines in the QS World University Rankings 2018. Antai remained in the top 100 for all the four disciplines. It was in the top 50 in the world for three disciplines. Antai has been among the top 50 in the world for three consecutive years for its business and management disciplines.