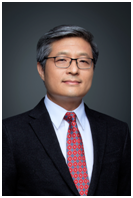 CHEN Fangruo
Dean of ACEM
CHEN Fangruo, graduated from Shanghai Jiao Tong University in 1985 with a dual bachelor's degree in naval architecture and ocean engineering and computer science and technology. In 1987, he got a master's degree from Moore School of Engineering at the University of Pennsylvania in the USA. Later, he obtained his doctorate from the Wharton School of Business at the University of Pennsylvania in the USA. In 1992, he worked at Columbia Business School successively as an assistant professor, associate professor and tenured associate professor. In 2001, he was promoted to a full professor as an exception. In 2005, he earned the title of Ira Rennert Professor of Business. In 2010, his title was changed into MUTB Professor of International Business.
Prof. Fangruo Chen has successively served as a distinguished visiting professor at many famous domestic and foreign universities, such as Stanford Business School in the USA, Cheung Kong Graduate School of Business, Chinese Academy of Sciences, Shanghai Jiao Tong University, Peking University, Tianjin University, etc. He once was chairman of the Manufacturing and Service Operations Management Society in the USA. He is the founding chairman of the Chinese Scholars Association for Management Science and Engineering (CSAMSE).
Prof. Fangruo Chen has been engaged in the research of operation management, supply chain management, and the interdisciplinary study of operation and marketing. In the fields of supply chain information sharing and coordination theory, he has made groundbreaking contributions. In the field of international academic research, he has promoted the communication and cooperation between operation and marketing management. He has published a large number of papers in famous international academic journals. He once was a field editor for top international journals like Management Science and Operations Research.
Prof. Fangcuo Chen once won America's National Science Foundation's CAREER Award (the former Presidential Youth Award). He is a winner of the Fund for Distinguished Young Scholars of the National Natural Science Foundation of China, he became a visiting chair professor at Shanghai Jiao Tong University. Now, he is a Guangqi chair professor at Shanghai Jiao Tong University. Since Aug. 2018, he became dean of the Antai College of Economics & Management, Shanghai Jiao Tong University.